Use every available tool for cloud application monitoring
If your organization hosts applications in the cloud, IT ops pros need to see what's going on. A mix of cloud vendor and traditional monitoring tools -- even Twitter -- makes for a comprehensive support and warning system.
Who's at fault when a cloud-based application experiences performance problems? Who's got the information and authorization to fix problems? When an enterprise application lives on a cloud provider's hosted infrastructure, IT operations finds themselves on the outside looking in.

Download this free guide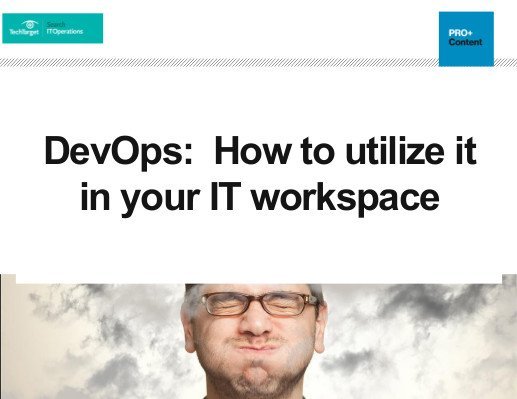 PDF: Are you migrating to DevOps?
As DevOps is slowly taking over the IT landscape, its vital that IT pros understand it before jumping right into the movement. In this complimentary guide, discover an expert breakdown of how DevOps impacts day-to-day operations management in modern IT environments.
It's no secret why many organizations migrate to the cloud -- and it's not stoppable -- so IT organizations must establish a new set of rules for cloud application monitoring and troubleshooting. It isn't a bad thing, so long as you have a plan.
Set cloud expectations from the start
Organizations that host applications in the cloud will never have access to that cloud's back end; the application support team are customers of the cloud, not the owner. Public cloud users are not entitled to the same tools and access they would have in the enterprise data center. IT personnel are accustomed to having complete control over an incident and access to all affected resources, but on a public cloud, access is restricted to whatever the vendor has granted. This can range from a simple cloud application monitoring dashboard to something more extensive with management capabilities and insights into back-end performance.
You know it's going to be a fun day when you wake up to a ton of alert emails saying everything is broken. #dns #DDoS

— Andrew Beard (@bearda24) October 21, 2016
Delve into the providers' monitoring and management offerings as part of the vendor selection process for cloud application hosting. For example, review the logging features in Microsoft Azure, and compare them to how logs are tracked and analyzed for on-premises workloads.
Determine the vendor's available contact methods, escalation paths and alerts for troubleshooting performance degradation and bugs in the application.
Cloud vendors also are responsible for infrastructure uptime, and they're not perfect. In the event of a major outage at a vendor, such as Amazon Web Services (AWS) or Microsoft Azure, many other customers will be contacting the vendor at the same time. Don't assume you'll get one-on-one attention for support, even if a major issue affects the app.
False alarm - was discovered to be WordPress xmlrpc attack on couple of ec2 instances - tracked to a range of IPs owned by pesky Russians

— Richard Wallis (@rjw) July 16, 2017
Set up monitoring tools wisely
Cloud vendors are improving and expanding the tools offered to users. Cloud application monitoring tools are feature-rich and customizable and can even hook into the tool set in the data center to create a version of the single-pane-of-glass dashboard for management visibility. Depending on the vendor, the more detailed or advanced features might come with a higher price tag. It's also difficult to create cohesion using a vendor's management APIs to integrate cloud application monitoring data into data center tools. The cloud vendor provides a set of tools and APIs that the app support team doesn't control, and that can be updated any time the vendor deems it necessary. To bring that monitoring data in-house via APIs is a moot point for most shops. It's easier to rely on the vendor-provided dashboard and tools rather than a Frankenstein creation.
Everywhere I look, 503s. #aws #cloudproblems #internets pic.twitter.com/CS0Q5gnb2F

— Lance Roggendorff (@lroggendorff) March 1, 2017
Connect to the outside world
Cloud application monitoring depends on more than just the cloud's services -- an organization still needs to connect to it. External connections become critical for success when the organization switches to cloud application hosting. Bandwidth becomes equally important, as slow networks can affect cloud application performance. A dual connection to the internet via separate providers is a safeguard against disconnection from cloud applications. You can't determine which aspect of the application stack has failed in an outage or performance issue if you can't even get basic information. You're no longer isolated behind four walls; the move to the cloud makes the internal IT ops team into global players and, therefore, subject to global events.
Always trust in Rule #1 of computer staff / users #TurnItOffAndBackOnAgain

— Mike Bazaluk (@mbazaluk) June 8, 2017
Follow unexpected sources for outage reports
While the cloud simplifies some aspects of application support, it adds new challenges. For example, organizations can't access the full application stack and must expand their attention to a global scale to monitor for outage events, internet attacks and other issues.
What constitutes a cloud application monitoring tool? In the years since cloud hosting became widespread in enterprises, Twitter activity has been the first indication of an outage on either AWS or Azure. No one would suggest you trade a vendor-supplied dashboard for a Twitter feed, but social media platforms have a legitimate place in the cloud-connected data center.