olly - Fotolia
Nail an IT project proposal
It's easy to get bogged down with the details when writing an information technology project proposal, but execs want simpler data. Here's how to write a winning proposal.
A time will come when you need to spend money on the IT environment.
Small, keeping-the-lights-on expenses in IT largely stay hidden from view, funded by existing IT budgets. Bigger projects, particularly those that directly enable changes to business operations, follow a project plan. The move from one cloud management tool to another is part of standard IT operations, while the move to hybrid cloud requires new platforms, tools and spending patterns. And that means you need to write an IT project proposal.
Whether you need to add business support via a new application, acquire a new set of tools to monitor and maintain the existing environment, or update part of the platform off its refresh cycle -- you need an information technology project proposal.
The key to an effective project plan is simplicity.
Define the IT project
Scope, resource and time (see Figure 1) are obvious factors in an IT project plan, yet seem to be where promises are made and broken on the most regular basis.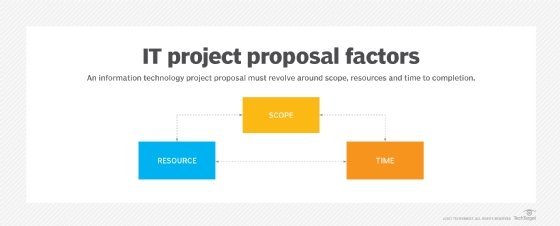 Forget the massive IT project; instead look for small-cost, high-value wins that take around three months to implement.
Well-defined projects require honesty. Don't pitch that a project will wrap up within an unrealistic timescale because you think that's the proposal the business wants to hear. Eschew any major changes to the original project scope that could derail time and resource allotments -- allow minor changes.
Consider what's important to your company when developing the IT project proposal.
A good IT project proposal isn't a technical inventory. Business executives don't care that the stack will use hyper-converged systems with NVMe memory connected to the public cloud via pixie dust. Couch all messages in terms that make sense for the company (see Figure 2):
What will the project do to better manage costs and risks within the business's operations?
Does the change enable greater overall business value without changing the functionality of the company's existing products or services? Is output or margin increased, or both?
Does the change enable a new product or service at a suitable margin?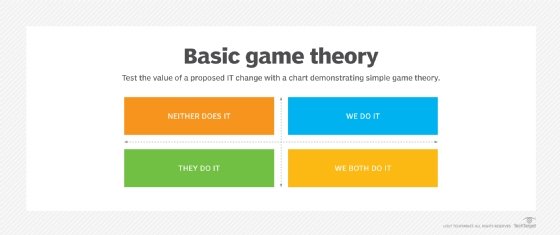 Consider what's important to your company when developing the IT project proposal. The proposed change doesn't have to better manage risk and cost, improve existing business and also bring a new offering to customers. Some organizations take on more risky initiatives if they can lower costs appreciably. Others go the other way: They're willing to pay more to drive down risk.
What will your IT project do?
Many businesses will do nothing, or little, rather than take on the burden of change. Beat inertia with a simple chart based on game theory. Create some short messages detailing the major changes to the overall market and therefore to the organization.
First, document the result if neither the organization nor its competitors invested in this change; things will carry on as they are -- for better or worse.
Now, what will happen if the organization makes the change, and no other companies do? The organization should be more competitive and take more market share.
Next, flip the coin. What will play out if some of the competition makes the change, but the organization doesn't? The shoe is on the other foot -- all the goodness goes to the competition and the organization suffers.
Finally, what if the business and its competitors all make the change? Essentially, the bar is raised, and the organization is no better or worse off. This forces strategic thinkers to consider the costs of not doing something -- an oft-overlooked possibility.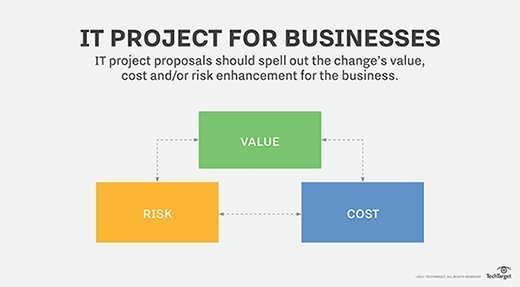 Calculate current costs
Existing IT deployment costs are not generally known outside of the IT department. New costs, however, proposed as part of an IT project, will incite questions about return on investment (ROI) and total cost of ownership. ROI is impossible to calculate without a baseline from current operations. Likewise, it can be argued that if any change has an overall cost associated with it, then it should not be used in the proposal: It is only the value that is gained from the change that counts.
Talk to end users and put together a list of five or 10 top processes that the proposed change will affect. Note whether the change will make this process significantly cheaper, somewhat cheaper, about the same cost, somewhat more expensive or significantly more expensive. Score these on a scale of 1, much cheaper, to 5, much more expensive, then add up the scores and divide by the number of processes considered.
The lower the score, the faster you'll reach your ROI, and the greater the overall value will be to the business. This method calculates ROI without a need to sit and wait until a baseline cost is measured -- and all without an Excel spreadsheet.
Think of it as a total value proposition; it gives you a far better chance of gaining business buy-in and sign-off for a technical project than an IT project proposal bogged down in those technical details. Also, focusing on these smaller process-related chunks of the project enables the business to see payback far more rapidly. Leaders may be inclined to agree to let IT retain some of the extra value to invest in the next stage of the overall IT journey.
Total value proposition frames IT projects as a move worth investing in, rather than an additional demand from a cost center. Time to grab the opportunity with both hands.
Dig Deeper on Matching IT Resources to Application Requirements