IT process improvements lurk in every onerous incident
When an IT incident arises, the focus is often on what admins can fix in the moment, but unflappable organizations make process improvement the final step of issue resolution.
IT incident management is one of the best ways to pinpoint which processes are in dire need of improvement. So, the next time something goes wrong, jump on the opportunity to do better.
IT process improvements are born out of bottlenecks, errors and user frustration. The root cause of an IT incident often highlights where the IT team should adjust and mature its operations. This correlation, however, is easier to talk about than act upon. It takes time to investigate and determine how to run IT processes more smoothly, especially when any immediate issues take priority over eventual improvement. The best way to get lasting results from the IT incident management process is to go in with a plan.
First things first
Start with the most common incident types, and look for patterns that will guide where to make IT process improvements. The IT help desk and ticketing system should generate reports based on category and incident type, which helps admins identify the most frequent issues. With or without that data, talk to the IT team that works on the front line to discover the areas that need attention. Admins who address the most obvious issues will free up support staff from repetitive work and enable them to focus on other tasks.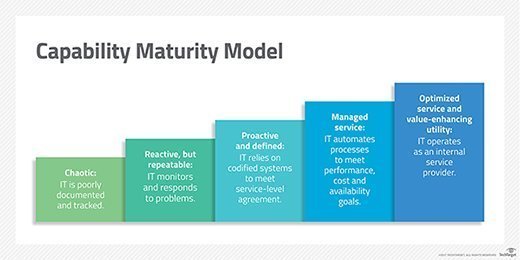 The frequency of password reset calls are among the most common complaints from help desk staff. Commonly, a user will change his or her password and forget the replacement or otherwise need help from IT for a reset. Before you commit to any action, consider the ultimate goal. Reduced help desk calls is a good start, but then think about other IT process improvements you could make to password resets, such as embedding security.
Analyze how the IT operations and help desk teams handle the password reset process. Is the user identity verification system satisfactory organizationwide? Does the help desk change passwords for the users, or do users change the password at next login attempt post-reset? These questions will help you identify ways to optimize the process overall.
Solidify a plan
Help desk staff who observe inefficiencies should notify their managers, who usually appreciate suggestions for IT process improvements. However, think through your ideas fully before you present them. For example, if you let users reset their own passwords, it can reduce help desk calls, but to do this securely requires detailed plans. Will you rely on a range of user authentication questions or trust a one-time text or email message to a third-party provider?
IT process improvements require that the team understand the organization's overarching goals. Think through the problem at hand, and develop a concrete suggestion. For further input, convene with fellow admins and any others likely affected by the change, and use these additional ideas to build a mutually acceptable plan.
The more time you put into planning, the more likely you'll address any issues before you actually implement the change.
The more time you put into planning, the more likely you'll address any issues before you actually implement the change.
User experience is another important factor in IT process improvements. Ensure any process changes won't prompt new issues. For example, if you roll out that new password reset process, will it introduce privacy issues around automated text and email messages to services that staff members use?
Communication around a process change is just as important. Determine who on staff needs to know about it, as well as any required documentation or training. It isn't easy to manage users' expectations and needs during transitions. So, don't rush the decision, and learn what has and hasn't worked in previous changes.
Once you have discussed, decided on and put in place IT process improvements, there's still more work to do. The change could create some user frustration in the short term. So, dig into the help desk tickets, and gather operations and support staff to look at the results. Did the process improvement reduce help desk calls and better the user experience? Did the updated process cause any new issues? These answers are fodder for future IT process tweaks, which is how the service management lifecycle works: continual service improvement.
Incident resolution is also a way to make the combined IT operations and help desk staff more efficient when users raise issues. It could even potentially create new ways for the company to be more profitable.
Dig Deeper on DevOps and IT Certifications and Training