freshidea - Fotolia
DevOps implementation success starts and ends with change
When rolling out DevOps, organizations should resist the urge to force-fit legacy development tools and processes into their new environment.
Nowadays, speed is the new business currency. Companies must deliver new products or services quickly in order to survive. If they do not, their competitors will, and the consequences are dire -- even for the largest and most successful enterprises.
A company's ability to deliver new products and services is closely tied to its IT systems. DevOps is an emerging way to build cloud applications that promises to speed up deployments. However, the potential improvements come at a price: For a successful DevOps implementation, organizations need to put new tools and processes in place. And for those that don't, it's bound to be a bumpy ride.
DevOps project feeds the need for speed
Enterprise interest in DevOps is increasing because it promises to tightly connect development and testing teams, or the groups building and refining applications, with system operations teams, or the folks allocating resources, such as servers or storage, to support the applications. Rather than painstakingly ask for new cloud services and have IT slowly roll them out, the two groups work closely and automate the deployment process.
Exactly how much faster can corporations deploy new applications after a DevOps implementation? Amazon Web Services (AWS), as an example, constantly updates its software through a DevOps model: in fact, AWS was averaging roughly one new software deployment every second by the end of 2014, according to Werner Vogels, the company's CTO. Few organizations will come close to that level of speed, but corporations that embrace DevOps will update software more quickly and frequently.
DevOps implementation comes with plenty of choices
What is needed to embrace DevOps? First, organizations need to evaluate and invest in new app development and management products. An IDC survey from 2015 found that 80% of companies that tried to use existing application management tools for DevOps failed.
Customer interest in next-generation development tools is increasing.
Historically, operations teams relied on spreadsheets or a pencil and paper to manage system configurations, but such processes were strewn with inefficiencies. And with updates occurring more quickly -- as they do with a DevOps implementation -- such inefficiencies can no longer be tolerated. As a result, new DevOps configuration management and orchestration tools have emerged to automate the development process.
These DevOps tools are coming from different sources. New products, like Chef, Puppet and SaltStack, which are based on open source models, are gaining popularity. In addition, startups like Puppet Labs bundle varying levels of support along with their implementations, while more established vendors, such as Hewlett Packard Enterprise, IBM, Oracle and Microsoft, have added DevOps tools and services to their products lines.
Customer interest in next-generation development tools is increasing. Analyst firm Gartner predicted the DevOps tools market would reach $2.3 billion in 2015, up 21.1% from $1.9 billion in 2014. The graph below, also from Gartner, illustrates estimated growth for three categories of DevOps tools: DevOps-ready, DevOps-enabled and DevOps-capable.
Gartner categorizes DevOps-ready tools as tools that are built specifically for DevOps and provide "out of the box" DevOps capabilities. A DevOps-enabled tool is a tool that may be older, but can still add value to a DevOps project. Lastly, DevOps-capable tools are tools that need to be configured to work in a DevOps process.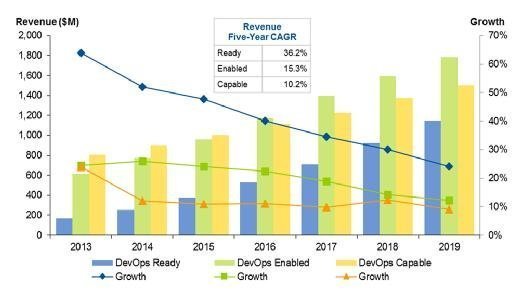 Adding a few amenities
In addition to purchasing new DevOps tools, businesses need to train their employees on how to use those tools for a successful DevOps implementation. There are various training options available today, and some are specific to certain DevOps tools. For instance, Chef Software offers a two-day training course on its offerings for $199.
The final, and often most difficult, step is putting the new development method, tools and trained employees in place. Like with anything new, employees may resist the change, so managers need to be cautious and patient during a DevOps implementation.
Despite the various challenges, many businesses are embracing the new application design approach. By 2016, DevOps will evolve from a niche strategy deployed mainly by large cloud vendors to a mainstream development process that 25% of Global 2000 organizations will use, according to Gartner. Ideally, the new development method will enable businesses to roll out new services and products fast enough to keep them afloat.