Manage
Learn to apply best practices and optimize your operations.
Business service management forces systems management evolution
Business service management (BSM) initiatives have forced systems management to improve IT operations staffs' productivity through an emphasis on better integration, automation, simplification, and visibility.
Recent trends in the systems management market have turned systems management vendors' attention to the plight and problems of IT operations staffs. That's good news for IT staffs in the trenches; and help is on its way.

Download this free guide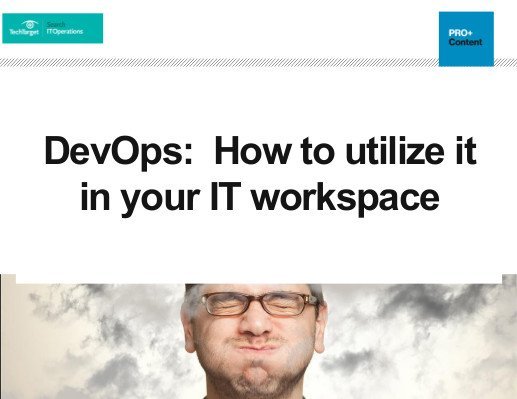 PDF: Are you migrating to DevOps?
As DevOps is slowly taking over the IT landscape, its vital that IT pros understand it before jumping right into the movement. In this complimentary guide, discover an expert breakdown of how DevOps impacts day-to-day operations management in modern IT environments.

By submitting your personal information, you agree that TechTarget and its partners may contact you regarding relevant content, products and special offers.

You also agree that your personal information may be transferred and processed in the United States, and that you have read and agree to the Terms of Use and the Privacy Policy.

Business-oriented vendor initiatives, such as business service management (BSM), have brought about the realization that IT organizations still need help getting out of the daily quagmires that consume their time and energies. Because IT operations staff is tied up with keeping things up and running, they don't have the time to fully support company BSM initiatives, and they can't make progress toward BSM.

The thinking goes that once IT operations staffs get some relief from time consuming daily routines and inefficient thrashing, they'll be more efficient and effective, and have more time to devote to business-oriented IT activities. Only then can IT organizations have any hope of moving closer toward BSM.

So as management vendors continue to develop their BSM capabilities at the upper levels of their solution suites, in parallel, they are also beginning to pay more attention to operational staff needs. These operations-oriented initiatives have brought about a new mantra that is resonating through many systems management approaches and marketing messages.

Although there are variations in this new mantra, there are also many similarities among systems management vendor objectives. These similarities are the recurring themes that make up the new systems management mantra: integration, automation, simplification, and visibility. While several of these themes are not new, what is new is how vendors are tackling these themes.

Major systems management vendors focus on integration

This trend is true of the "Big 4" systems management vendors, BMC, CA, HP, and IBM. For example, BMC recently announced new solution capabilities aimed at solving issues for IT operations. And it is also true of smaller vendors like Configuresoft, who just announced operationally-oriented change management capabilities.

Integration is definitely not new. It's been part of the management lexicon for decades and will continue to be there for decades to come. The difficulty with the word "integration" is the ambiguity of the intended definition, particularly when comparing one vendor solution to another.

The age-old problem of deciphering what a vendor means when they speak of integration continues today. The definition of integration can vary from very loosely coupled connections that provide minimal interactions between solutions, to tightly coupled connections that deliver complex and dialog-like interactions that make multiple solutions appear as one. So, as you evaluate solutions, "integration" can't simply be a check-off box, you have to find out exactly what "integration" means to the vendor and how they've built it into their products.

The most notable difference in some of the integrations being done today is their focus around process. This process-orientation provides a different, more directed approach than those used in the past. In the framework days, integration largely meant enabling some interaction between products, such as management centralization and management from a single pane of glass. Today, integrations are necessary to enable ITIL-based processes, as they span horizontally across silos of IT domains and vertically through the IT organization. Additionally, Integrations provide richer management information for better decision making, diagnosis or broader visibility.

Process automation, simplification benefits business service management

The value of these integrations increases when coupled with process automation, which is what many vendors are doing today. In an effort to reduce operation staff efforts and for better process deployment, management vendors are embedding workflows in their products that include automation where users need it.

The automation may be at the process level as it keeps the process moving along.; or it may apply automation to retrieve additional information from other management products. Intelligently applied automation (using automation when and where it makes sense) is easier to deploy when relying on process-oriented approaches, which is one of the reasons that automation is more palatable today than it was two years ago.

Simplification is another term that can be ambiguous, particularly in its application and use in products. One way that management vendors are simplifying their products is by applying technology to relieve administrators from doing manual tasks.

Using statistical methods for identifying normal behavior patterns for automatically setting alarm thresholds is one example. Other methods for simplifying product setup or operations include providing out-of-the-box workflows, best practices, templates and more. Simplification of management products can increase administrator productivity by enabling them to do more, with less effort.

IT operations visibility key to improving workflow

Last but not least is visibility. Vendors are providing increased visibility by leveraging the flow of information through the built-in integrations, as well as ITIL constructs such as the CMDB, and application mapping technologies. In addition, data analysis can synthesize valuable information that administrators wouldn't be able to do manually.

Because vendor integrations are occurring vertically, as well as horizontally across technology silos, increased visibility can span across the broader integrations. This can provide fuller and richer information context for such tasks as incident diagnosis, better process management, or business-oriented views of the infrastructure.

So when you listen to management vendors and think that you've heard it all before, you probably have. But take a closer look at what they're doing – you may be surprised at what you find. Some users have reported significant improvement in their ability to manage, as well as added efficiencies and effectiveness. With the variety of solutions to choose from, you may find some rehashing of what you've heard before, or you may find new approaches that really do provide actionable help and solutions.

ABOUT THE AUTHOR: Audrey Rasmussen has over 28 years of IT experience. She served as vice president at Enterprise Management Associates, a systems engineer at IBM, and co-authored the Network World Fusion Network and Systems Management newsletter for several years. Audrey is currently an analyst at Ptak, Noel & Associate.

Dig Deeper on Real-Time Performance Monitoring and Management