Manage
Learn to apply best practices and optimize your operations.
Step up from ops on your IT career path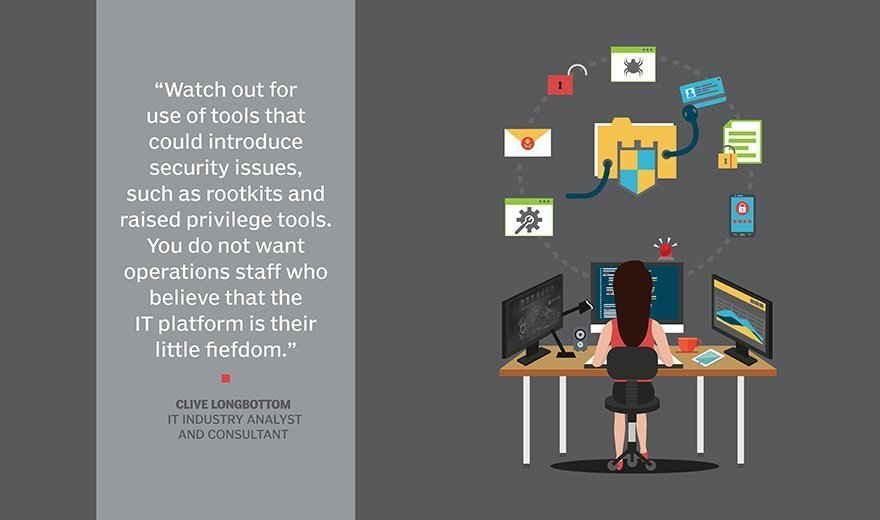 Visual Editor:
Online Design/TechTarget
Unauthorized intrusion into enterprise systems, coupled with the potential loss or theft of valuable business data, has business leaders combing through IT security specialist resumes.
The disruption wrought by hackers, or an employee who exposes sensitive information, has embarrassed many business and government organizations -- and left them to deal with regulatory or legal repercussions.
An IT security specialist must protect changing architectures, as traditional perimeters roll back to allow API-based communications. Greater communication also means businesses collect and store increasing volumes of sensitive data. IT security specialists must implement and maintain technologies and processes that can halt unauthorized access, secure data at rest and in flight, and mitigate a constantly changing threat landscape.
This IT career path combines traditional expertise, such as vulnerability hardening for hardware and OSes, with new skills to manage privileges, identify and report aberrant activities and recognize and halt intrusions.
The incident response window has shrunk to almost zero. New attack mechanisms and behaviors can appear without warning, so IT security tools must operate dynamically relying on machine learning and analytics to automatically spot and mitigate potential threats -- even before the malicious activity unfolds.
Other emerging IT operations jobs
Specialize even further with a cloud capacity management career
IoT developers are in demand
Get ahead of the IoT curve -- get certified
How one physicist chose a new path of data science
For a new twist on DevOps, try site reliability engineering
View All Photo Stories