Evaluate
Weigh the pros and cons of technologies, products and projects you are considering.
2017 Impact Awards honor the best IT products and services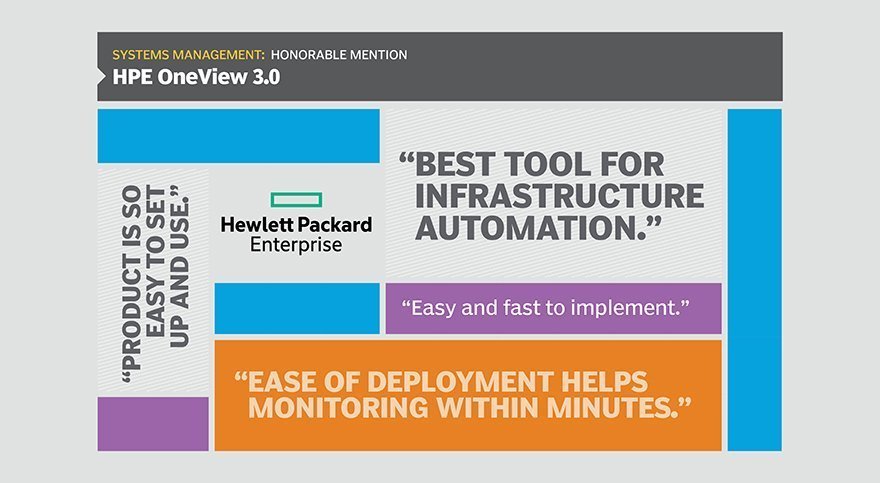 Source:
kimberrywood/iStock
When it debuted OneView 3.0 and a handful of other cloud-based offerings in 2016, Hewlett Packard Enterprise was in the process of retooling its cloud strategy for the new age and to play catch-up with a few archrivals.
While Hewlett Packard Enterprise's (HPE) overall cloud effort remains a work in progress, OneView 3.0 has its share of fans, earning an honorable mention in Modern Infrastructure's 2017 Systems Management Tool category
Part of the Helion CloudSystem 10 suite, which helps IT professionals manage applications from traditional to containerized applications, HPE OneView 3.0 laces the company's infrastructure lineup with software-defined intelligence. The offering works with CloudSystem 10 to permit automatic provisioning of cloud resources from bare-metal infrastructure.
"This is the best tool for infrastructure automation we have seen," one voter said.
OneView 3.0 also serves as an integral piece of HPE's Composable Infrastructure, HPE Synergy and HPE Hyper Converged offerings. Working in concert with HPE Helion, the two products serve as the foundation to simplify the next generation hybrid IT.
New features in Version 3.0 include a global dashboard to ease IT operations for distributed environments, a simpler way to manage heterogeneous network switches by marrying the HPE Intelligent Management Center with OneView and the product's tight integration with CloudSystem 10, which can provision physical servers and entire virtual clusters from a single console.
View All Photo Stories