Evaluate
Weigh the pros and cons of technologies, products and projects you are considering.
2017 Impact Awards honor the best IT products and services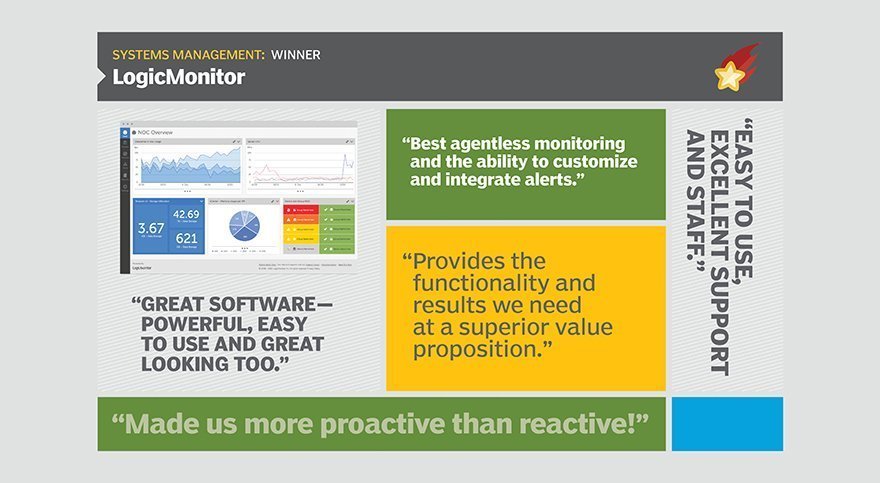 Source:
kimberrywood/iStock
As managing both on-premises and cloud-based environments grows more complex, system administrators are placing more value on tools that offer them different ways to monitor existing performance and forecast future performance.
LogicMonitor, a software as a service-based agentless automated monitoring tool, with a built-in workflow feature that includes alert routing and escalation management, does precisely that. And this is precisely why readers put it at the top of the heap of Modern Infrastructure's 2017 Systems Management Tool category.
"With LogicMonitor the capabilities to capture relevant data and receive alerts against it are far greater than I have personally used," one voter said. "This isn't to say that other products aren't capable of the same level of data collection, but LogicMonitor does it in a way that, while technical, is still easy enough to build from scratch with some ability."
Readers also appeared taken with the product's flexibility that provides different monitoring capabilities, along with the ease of use in setting up and maintaining it.
"We chose this product above all competitors because it gives such a wide ranging scope for monitoring," another voter said. "Also, the support and assistance received in setup and ongoing management of the tool is the best I have seen in a very, very long time."
Voters also lauded the offering's customizable dashboards, which some said helped improve their response time to address performance issues and other technical problems. Some also appreciated that the product does not require an agent.
"The product is unique in that it doesn't require the use of an agent," one respondent said. "Through the use of dynamic directories and DNS naming, one can easily automate a structured view of a complex environment and can bring in AWS (Amazon Web Services) cloud watch metrics to view on that single pane of glass."
Several readers also gave a shout out to LogicMonitor's technical support team, praising its quick customer response and willingness to go beyond the scope of a request to help resolve an issue.
View All Photo Stories