Evaluate
Weigh the pros and cons of technologies, products and projects you are considering.
2017 Impact Awards honor the best IT products and services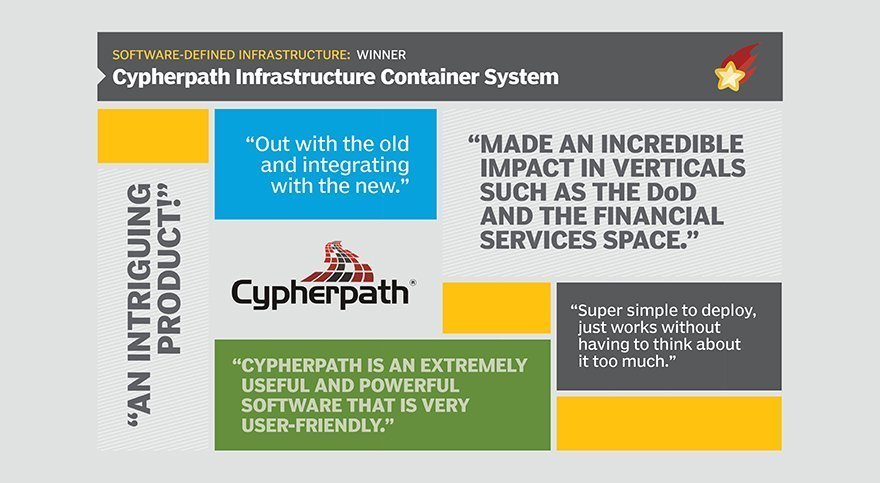 Source:
kimberrywood/iStock
By simply sharing a file, users can build, deploy, run and manage data center infrastructure. That's just one reason why readers voted Cypherpath Infrastructure Container System as the winner in Modern Infrastructure's Software-Defined Infrastructure category in the 2017 Impact Awards.
Cypherpath Infrastructure Container System puts the entire IT stack -- storage, networks and apps -- into a software-defined container, which allows organizations to build highly scalable portable infrastructures on top of existing investments. While the popularity of containers has just recently spiked, readers are encouraged by Cypherpath's new wrinkle.
"Cypherpath is an extremely useful and very powerful software that is very user friendly," one voter said.
After the entire selected infrastructure is encapsulated by the container, users can inspect differences and go back to previous versions, or even reuse them. Users can also share the infrastructure containers with other users via a remote repository. Another reader liked the ability to create networks with different routing, protocols and switches in an infrastructure container.
"It's out with the old and integrating the new," said another Modern Infrastructure reader and Cypherpath user.
Users can create new machines or upload existing machines from traditional hypervisors, such as Hyper-V or VMware, and customize the settings when it comes to disks, memory, CPUs and more. The containers can be suspended or restarted -- or even transported -- between deployments.
With Cypherpath Infrastructure Container System, multiple containers can run on the same physical server without any interference.
"The idea of infrastructure in a container is a great twist," said Brian Kirsch, IT architect and instructor at Milwaukee Area Technical College. "The infrastructure in a container is an ideal solution for DevOps teams looking to develop software that simply doesn't fit in the traditional container architecture.
"This also allows for more enterprise solutions that can be applied to top tier applications without complete rewrites for existing container technology."
View All Photo Stories