Evaluate
Weigh the pros and cons of technologies, products and projects you are considering.
2017 Impact Awards honor the best IT products and services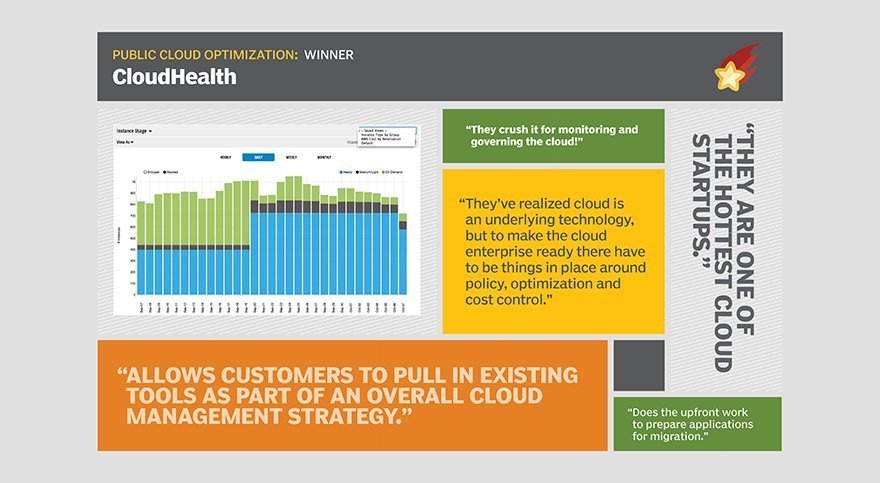 Source:
kimberrywood/iStock
As early cloud adopters make way for the mainstream, migrating and managing existing workloads remains a constant challenge. There's a flood of third-party companies trying to ease that on-ramp, but for our readers CloudHealth Technologies is the best bet.
The Boston-based IT services company provides a range of tools, offering a consolidated view of workloads running in multiple public clouds and on premises. This includes API-driven analytics to help evaluate workflows to improve optimization and add automation.
"They've realized cloud is an underlying technology, but to make the cloud enterprise-ready there has to be things in place around policy, optimization, cost control," said Owen Rogers, research director at 451 Research's digital economics unit.
One thing that distinguishes CloudHealth is that rather than saying customers need one technology for everything, it allows customers to pull in existing tools and partners as part of an overall cloud-management strategy.
The CloudHealth Migration Assessment tool does the upfront work to prepare applications for migration by analyzing their dependencies. It also integrates the new AWS Application Discovery Service to help analyze and map application assets to speed the migration process.
There's also a lightweight agent installed that provides interactive reports to look at configurations and policies to make recommendations and address total cost of ownership, usage, performance and security on Amazon Web Services or Microsoft Azure, and to determine how to optimize workloads.
View All Photo Stories