Evaluate
Weigh the pros and cons of technologies, products and projects you are considering.
2017 Impact Awards honor the best IT products and services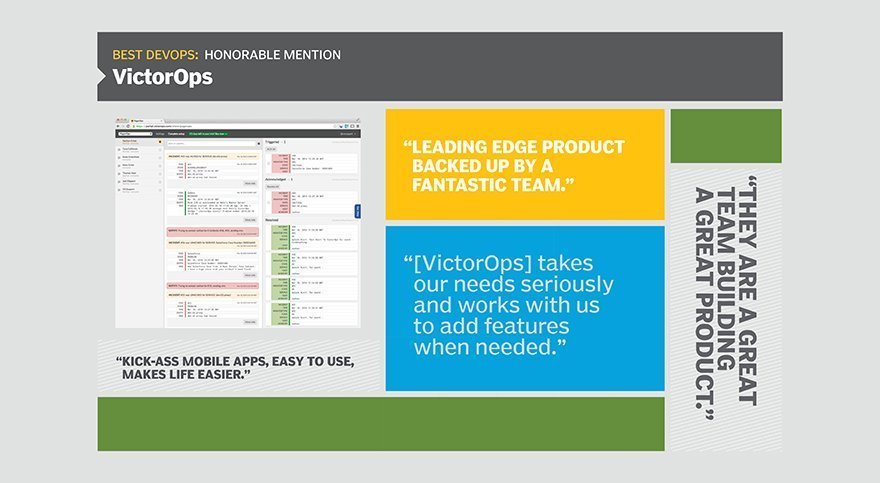 Source:
kimberrywood/iStock
While PagerDuty was our winner this year, competitor VictorOps was hot on its heels.
VictorOps, which trailed PagerDuty by just a few votes, received glowing reviews for its innovative approach to critical-incident management that is specifically tailored for DevOps teams."VictorOps has strong DevOps messaging, [such as] feedback loops, team collaboration and messages sent directly to DevOps pros, amongst other domains," said Robert Stroud, a Forrester analyst.
The tool manages on-call teams and incident notifications, creates a virtual environment for teams to practice and then put a remediation plan into action, and provides post-mortem reports. It offers a live IT infrastructure timeline visible from any location or device.
The VictorOps platform features unlimited U.S. and international push, SMS and phone notifications per month, a standard service-level agreement, and its mobile device integration led one Impact Awards voter to cite its "kickass mobile apps [that] make life easier."
Voters praised VictorOps' many integrations with third-party ChatOps tools such as HipChat and Slack, as well as cloud monitoring and logging tools, which it uses to generate and process incident alerts. The company, based in Boulder, Colo., boasts customer references that include DirecTV, Edmunds.com, The New York Times and Vevo.
Voters also said VictorOps' technical support is second to none.
"They are a great team building a great product," said a VictorOps fan. "They are always working with their customer base to build the best possible call management system for DevOps-based companies."
View All Photo Stories