Evaluate
Weigh the pros and cons of technologies, products and projects you are considering.
2017 Impact Awards honor the best IT products and services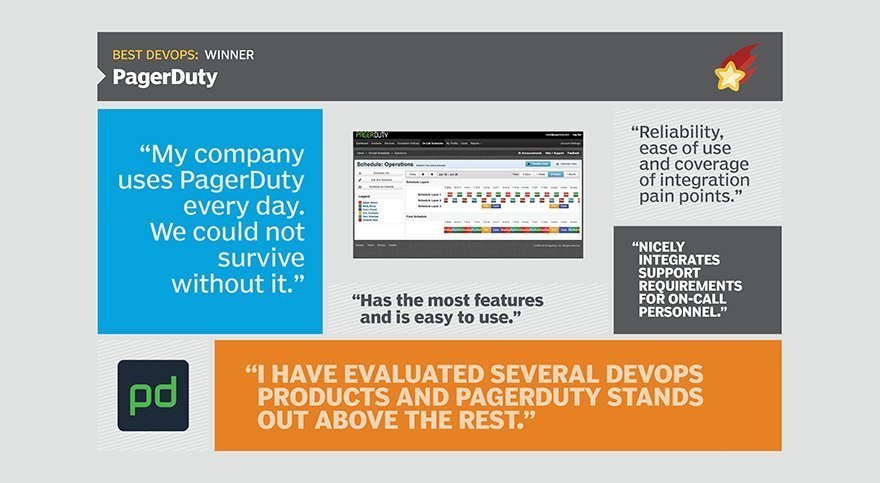 Source:
kimberrywood/iStock
Continuous improvement and developer feedback are crucial, but often overlooked, aspects of DevOps pipelines. True DevOps requires developers and ops specialists to quickly fix problems as they arise in production.
The tool that wins Modern Infrastructure's DevOps category this year, PagerDuty, fits squarely in the DevOps monitoring and incident resolution category. San Francisco-based PagerDuty is a reliable critical-incident management platform, funneling important alerts from applications and infrastructure to the right IT personnel for resolution.
In addition to its reliability, PagerDuty was lauded for its ease of use by several of our voters, as well as its coverage of integration points with other tools in DevOps environments, such as Slack and HipChat, AWS CloudWatch, logging tools and dozens more.
"My company uses PagerDuty every day," a PagerDuty user, and voter, said. "We could not survive without it. It always works and it scales with our growing company, which is awesome."
PagerDuty is a helpful way to organize on-call schedules for IT personnel that may be distributed around the country or the globe, other users said. The tool also allows for virtual teams to come together in case of emergency or significant events.
For cloud communications platform maker Twilio Inc., PagerDuty's ability to absorb changing notification routes as teams rotate on-call duties was key to dividing and delegating responsibilities as the company grew.
PagerDuty's popularity speaks to its strength as a tool for critical-incident management, said Robert Stroud, an analyst with Forrester.
"Based on adoption and use by the community, PagerDuty is the leader in this domain with a large customer base and usage, according to inquiries I've received," he said.
View All Photo Stories