Get started
Bring yourself up to speed with our introductory content.
DevOps capabilities vary widely by industry vertical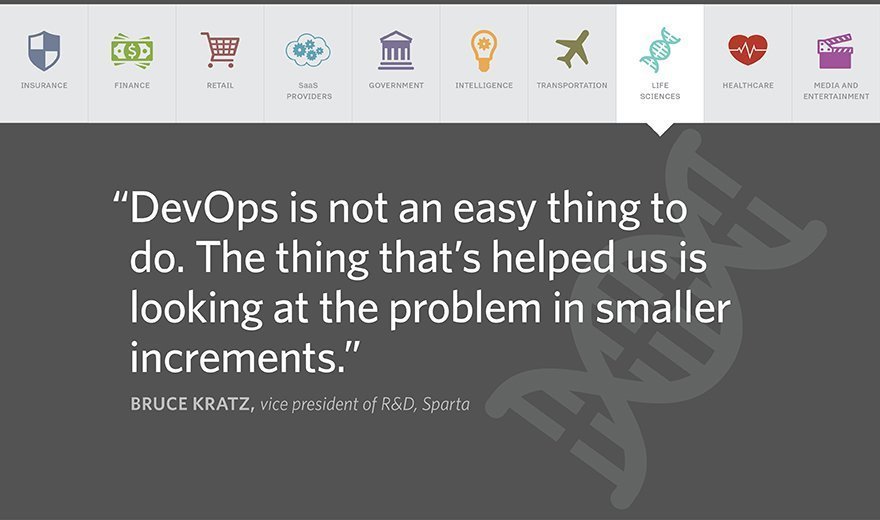 Visual Editor:
Megan Cassello
Despite regulatory challenges, Forrester Research ranks life sciences IT, and pharma in particular, as one of the hottest industries for DevOps adoption in the last year.
As companies race to develop the next popular drug, big data analytics and software automation processes are becoming staple practices wherever they are possible under Food and Drug Administration (FDA) regulations, said Orhan Karsligil, CIO for MediVector Inc., a pharmaceutical firm in Boston.
For example, MediVector uses Agile concepts, such as test-driven development of applications, as well as DevOps tools, such as Salt, to deploy and 'freeze' machine images used in the drug development process.
"We can bring them up any time," Karsligil said of the 'frozen' servers. "When the quality team comes and says, 'What is the status of this machine, what is installed, who installed it, what updates happened?', we can press a key, compare it to the original and get an audit log of all the changes."
This type of compliance automation has also helped life sciences IT advance at Sparta Systems Inc., based in Hamilton, N.J. Sparta makes software used by large pharmaceutical and biological research organizations to ensure the quality of their products and has had to keep up with rapid growth.
The company hasn't yet adopted full-blown microservices, but it is making smaller, more rapid changes to its software as it accommodates a research and development (R&D) team that has doubled every 15 months for the last four years, according to Bruce Kratz, Sparta's VP of R&D.
"Doing things in smaller increments gives us a much greater safety net to make changes and always have working software at the end, as opposed to going months and months with the patient 'open' working on implementing features," Kratz said, referring to changing software code like a patient under the surgical knife. "The quality of our software is more predictable, and we've been way more predictable on meeting our schedules for the business, so we're really in a growth mode."
For life sciences IT organizations that produce drugs for FDA approval, however, the regulatory burden has caused significant DevOps friction, according to Karsligil. The FDA is continually re-examining and revising regulations, such as Title 21 of the Code of Federal Regulations, which stipulates the clinical data formats and documentation rules during the drug approval process, but that work is slow.
"Doing continuous delivery in life sciences is nearly impossible because every release has a documentation associated with it for change control," Karsligil said. "That, unfortunately, keeps the industry far behind other industries in terms of the deployment and modifications to applications."
View All Photo Stories