Get started
Bring yourself up to speed with our introductory content.
DevOps capabilities vary widely by industry vertical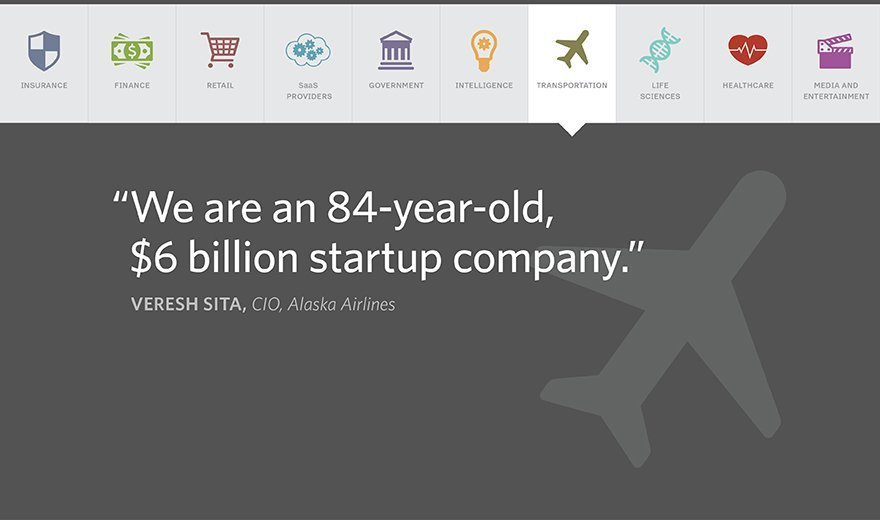 Visual Editor:
Megan Cassello
The need to modernize the transportation IT sector in the U.S. is obvious to those who witnessed the big airlines' high-profile IT outages, including the ones that took out Southwest Airlines flights in July and grounded Delta in August.
In aerospace in particular, so much corporate consolidation has happened that passengers are more stuck than they used to be in the event of a transportation IT failure, according to Alex Witherspoon, vice president of platform engineering for FlightStats Inc., a global data service company in the aviation space located in Portland, Ore. and now owned by FlightGlobal.
With fewer airlines to fall back on, "we're in a world where [airline operators] need to catch up very, very rapidly. They're trying to do it in a cost-effective way, and DevOps is one of the ways to do that," Witherspoon said.
At FlightStats and other forward-thinking transportation IT companies, such as Uber, microservices are going a long way toward improving efficiency, despite what Witherspoon describes as an industry-wide shortage of modern skills that would speed DevOps maturity. Small teams working on small areas of an app have the purview to make their own choices and move quickly to both create new features and resolve problems.
"We need to do more, but we don't have readily available and affordable access to talent," Witherspoon said. "But at the same time, we're trying to support new initiatives and to keep what we do have in play operationally safe and sound."
DevOps is useful for overcoming staff shortages by implementing software automation, reducing the number of people it takes to run a relatively large infrastructure. Witherspoon also argues that DevOps fosters more resilient infrastructures than the ones operated by the airline carriers who suffered such cringeworthy outages this summer.
At the very worst at FlightStats, a single engineer -- any engineer -- can push a script and a failing resource will go back into play within minutes or an hour, Witherspoon said.
The news isn't all bad for airlines, either. There are emerging carriers, such as Alaska Airlines whose CIO delivered a keynote presentation at ChefConf 2016 about the company's efforts to develop new software-driven services for customers, such as automated bag checks using a mobile app, digital bag tags and, eventually, biometrics.
"Whether you call it DevOps or not ... what we're talking about doing is getting heterogeneous, colocated teams [and] putting them together to deliver outcomes at speed," said Alaska Airlines CIO Veresh Sita in the presentation. "Because delivering code at speed ... is what allows us to enable the transformation of the airline experience."
Other transportation IT entities outside aerospace are also looking to modernize through DevOps capabilities. Companies in the seaport world, for example, are bringing ocean-going transportation up to date. One example of this is Navis, which makes software for running complex dock operations. The company is applying continuous integration principles to its software testing routines.
View All Photo Stories