Get started
Bring yourself up to speed with our introductory content.
DevOps capabilities vary widely by industry vertical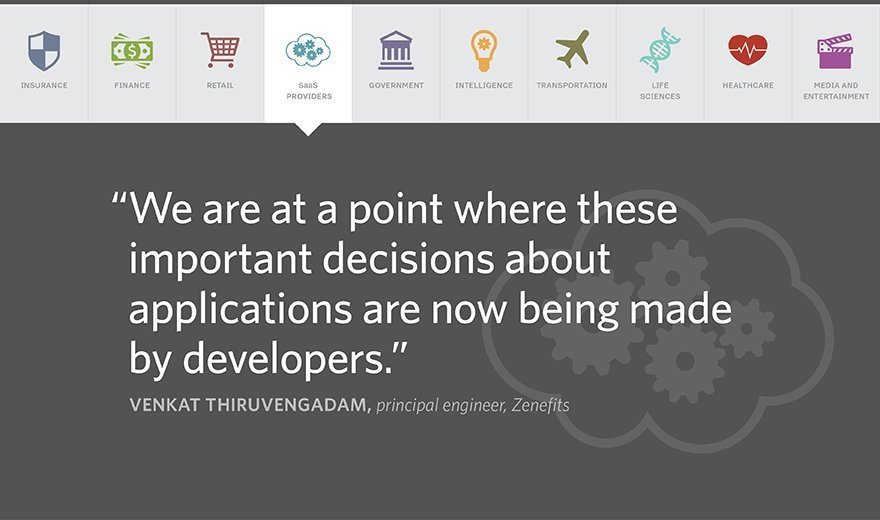 Visual Editor:
Megan Cassello
Web-based companies that offer SaaS products are the new kids on the block in IT, and they are spearheading the movement toward DevOps by pioneering software automation, as well as a cultural revolution in the technology field.
These are the greenfields: the companies that can build a modern DevOps-driven infrastructure from scratch. Here you'll find the strongest advocates for serverless computing, NoOps and other bleeding-edge ideas. Software as a service (SaaS) IT shops are not without their DevOps implementation challenges, but, in most cases, they're ahead of the game.
SaaS IT practitioners have no legacy infrastructure to accommodate and often have few, if any, operations engineers, as they also tend to be based on public cloud services. However, they must take responsibility for all of the back-end workings of the applications they offer, shifting it off of the customer that previously operated software in on-premises installations. Typically, SaaS IT pros build their own software automation tools from the ground up from open source building blocks, as these differentiate them from the SaaS shop next door.
Take San Francisco-based Zenefits, founded in 2013, for example. The human resources management SaaS company relies on an infrastructure management and app deployment platform called Duplo, which the company's principal engineer, Venkat Thiruvengadam, built from scratch.
In Thiruvengadam's opinion, there are two types of companies: enterprise traditionalists and Web 2.0 trailblazers.
"The world is transitioning from the first approach to the second approach," he said. "The software that [Microsoft] Azure, Google [Cloud Platform] and Amazon [Web Services] are building today is better than the software that has [previously] existed, and this is a realization people are having, slowly."
Transition outside of the SaaS IT bubble is slow because IT traditionalists are afraid to give too much control to their developers, Thiruvengadam said.
"Traditional companies are afraid, for security reasons, that a developer will make a mistake or cause an outage if they do a risky deployment in the middle of the day," he said. "That is where we have to improve software to reduce the risks."
Risk can also be minimized when one SaaS developer team can handle the IT troubleshooting of its own apps, Thiruvengadam believes.
"You don't wait for a human to tell you what the problem is, you just interact with the software," he said. Meanwhile, if there's an infrastructure problem in the public cloud, "I trust Microsoft and Amazon to solve it faster than IT pros in a private cloud responding to support tickets."
View All Photo Stories