Get started
Bring yourself up to speed with our introductory content.
DevOps capabilities vary widely by industry vertical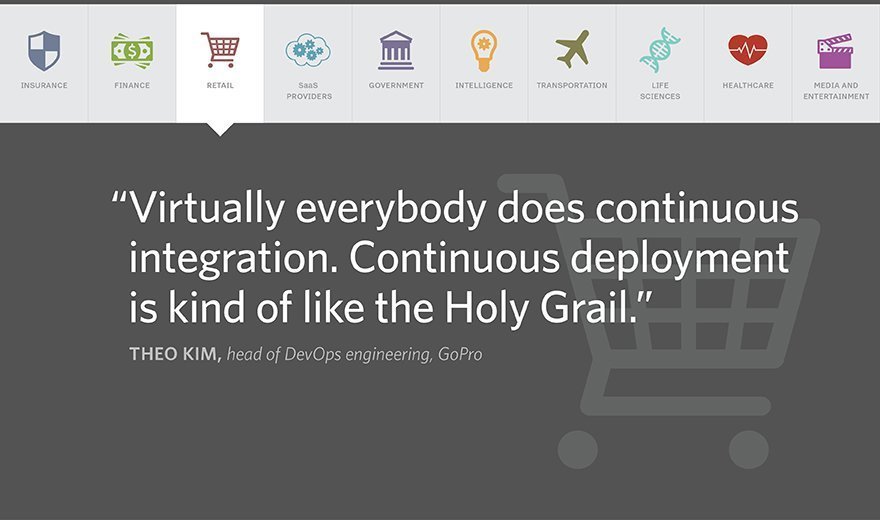 Visual Editor:
Megan Cassello
IT in retail spaces is placing a high-stakes bet on e-commerce, and stocking up on DevOps capabilities to do so.
Retailer Amazon.com and its Amazon Web Services cloud computing arm laid the foundations of the DevOps movement for IT in retail. To compete with Amazon, a U.S. retail industry based on brick-and-mortar stores has spent the last five years in a full on gold rush toward an e-commerce first business model.
As a result, IT in the retail sector has led the charge in increased app delivery velocity. Most large e-commerce websites update multiple times a day, promote special offers and pivot quickly on them; retail businesses always have new feature requests for dot-com teams. Thus, DevOps is becoming more important to IT in retail firms: The faster they can get website updates out the door, the sooner the business can make more money.
This has necessitated a cultural and geographical shift in power, in addition to rapid software development, driving DevOps practices at many household name retailers.
"If you look at what these retail companies have done -- Macys.com, Gap.com, Kohls.com, Walmart.com -- they're all right here in the Bay Area even though the headquarters is in the Midwest or the South," said Zubin Irani, CEO of cPrime Inc., an Agile software development consulting firm in San Francisco, who works with large clients in the retail field. "But they recognize technology is important and they want to build a tech culture here."
The challenge is to modernize the systems of record that remain at those headquarters and that are managed by a traditional IT staff, Irani said.
Target is a good example of IT in retail operations successfully making the transition to DevOps automation, even with traditional packaged applications. Some of the mega-retailer's Minneapolis-based engineers recently turned to a DevOps dojo within the company to learn how to automate an immutable infrastructure for the massive SharePoint environment that supports its communications and marketing departments.
After some cost/benefit analysis, Target automated SharePoint deployment using cookbooks and recipes it wrote for the Chef configuration management tool, reducing its lead time to rebuild the infrastructure by orders of magnitude, according to a public presentation by Target engineers at ChefConf 2016 in Seattle this July.
Open source software is all the rage in DevOps shops, but "packaged software like SharePoint is still important and does remain critical to our operations," said Ron Tatro, principal engineer for Target, in the presentation.
"That's the next frontier for them," Irani said. "How do they take what they've been doing in the dot-com space back to corporate and start revolutionizing those systems, which will take years?"
View All Photo Stories