Get started
Bring yourself up to speed with our introductory content.
DevOps capabilities vary widely by industry vertical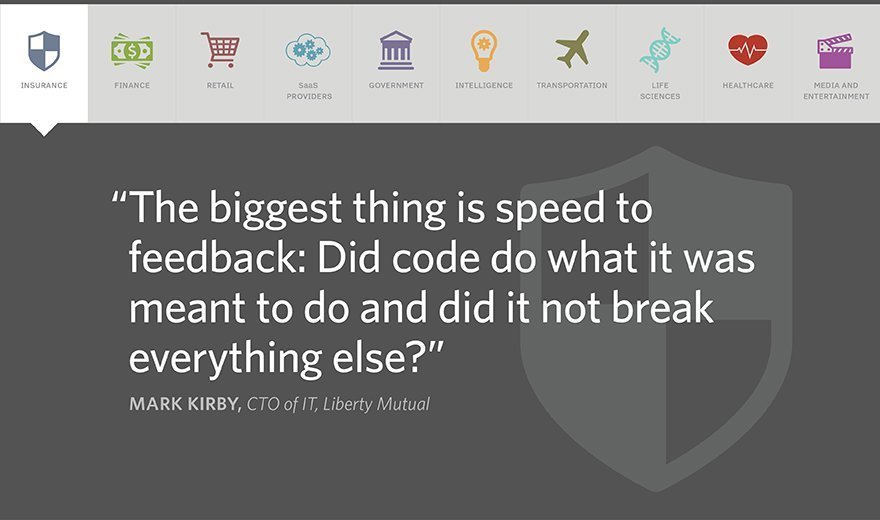 Visual Editor:
Megan Cassello
Liberty Mutual Insurance in Boston might not be the first name people think of when it comes to DevOps adoption -- few companies would seem like more traditional businesses in a more traditional market than a 100-year-old Fortune 100 insurance firm.
However, the third-largest property and casualty insurer in the U.S. has made steady progress adopting DevOps, according to Mark Kirby, Liberty Mutual CTO of IT. And the company is not alone among insurance IT professionals.
"Empowered customers are driving disruption all over the business of insurance," wrote Forrester Research analyst Ellen Carney in a blog post. "That focus on the customer now matters more than any other strategic imperative, based on a Forrester global survey of over 250 insurance business decision-makers."
Liberty Mutual's DevOps journey is far from complete, but various insurance IT groups within the company have advanced their software automation capabilities, as well as their continuous software development practices, Kirby said.
Compliance with regulatory frameworks is often cited as a deterrent to software automation, but Kirby said DevOps adoption has yielded a stronger compliance posture for the company so far.
"A lot of our controls, in general, are manual validation, [showing] the linkage between requirements and funding, and somebody would produce a report and somebody would review that report," he said. "Now, of course, you can start to build those things in software."
Liberty Mutual uses tools such as Atlassian's JIRA to automatically provide the correlations, and its IT pros can trigger an alert if there's a variance from the requirements. Liberty Mutual has also worked to automate password protection and identity management within its insurance IT infrastructure as it strives for DevOps maturity.
Operational stability, however, remains paramount at this bellwether business, which must proceed carefully as it looks to increase its velocity.
"Regulations are one small part of all of the things we want to do to ensure quality," Kirby said. Fast failures and fixes represent something of a departure from a single-minded focus on system reliability, but a balance must be struck between those concepts in insurance IT shops so that the business can remain competitive in a world that's seeing a massive proliferation of software capabilities.
The crucial factor is the time it takes to get feedback on whatever you are trying to accomplish, Kirby said. "When you take that and expand it more broadly across the company, what you're really talking about is time to market, which, nowadays, is directly related to your success."
View All Photo Stories