ITIL and DevOps: Can they coexist?
Frameworks and methodologies must keep pace with technology stacks. ITIL fell too far behind between the release of ITIL 3 and ITIL 4, but there might be a middle ground.
The long wait between the release of ITIL 3 and ITIL 4, coupled with the rise of DevOps and cloud management practices, has threatened the relevancy of ITIL.
And while ITIL still has a home in many enterprises, others have de-emphasized the long-standing ITSM framework in favor of DevOps or homegrown practices.
ITIL and DevOps: How the former fell behind
ITIL fell into a bureaucratic crevasse during the eight-year lapse between the revised version of ITIL 3 -- also known as ITIL 2011 -- and ITIL 4, which rolled out in 2019. One explanation for the delay was ITIL's change in ownership. Initially, the United Kingdom's Central Computer and Telecommunications Agency (CCTA), a governmental agency that provided IT and telecom support, owned ITIL. CCTA then merged with the Office of Government Commerce. In 2013, AXELOS -- a joint venture between Capita, a professional services company, and the UK Cabinet office -- took ownership of ITIL.
But with no DevOps or cloud message from ITIL during those years, organizations sought other frameworks. The option was to embrace DevOps or develop other processes internally, especially as enterprises faced pressure to meet customer expectations around the quick delivery of new applications and features. Certainly, ITIL's limbo brought about some cultural clashes along the way, as ITIL stalwarts tried to hang on to the methodology, but IT operations and technology stacks changed rapidly around them.
During the wait time between ITIL 3 and 4, organizations also started to develop cloud migration strategies. Cloud management models would begin as ad hoc, but mature gradually into more formal service management approaches. Early cloud adopters had a chance to iterate and build on their lessons learned without the arbitrary restrictions of an industry methodology. While some cloud management practices have their roots in ITIL, they were largely shaped by early adopters, cloud service providers, system integrators and startup cloud management platform (CMP) vendors.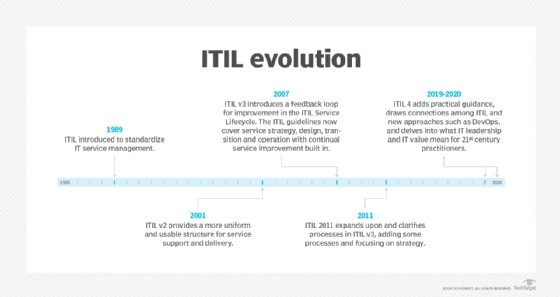 ITIL 4, even with some cloud and DevOps support, entered a market in which organizations were already in the cloud. However, it still falls short for some enterprises. For example, ITIL 4 practices still push top-down command and control versus DevOps being an empowered team. What's more, organizations were at least piloting continuous integration/continuous development (CI/CD) strategies, while others were already midstream in their cloud and DevOps initiatives, some of which include technologies such as containers, microservices and serverless computing. All this adds up to an organization being less likely to rewrite governance and management processes for ITIL 4, particularly when they already spent money and time crafting their own processes.
Editor's note: Despite a lack of synergy between certain ITIL and DevOps practices, some believe that the two frameworks can, and should, coexist.
In addition, ITIL 4 -- all 34 practices and four core functions -- still encourages operational and data silos, which keeps development and operations teams apart. This is a major difference between ITIL and DevOps, as the latter aims to breaks down silos to improve collaboration, troubleshooting and reporting during the entire product delivery lifecycle.
Cloud management as a middle ground
CMPs have become the only major service management platform that many cloud-first organizations need, and even their own class of service management inside some enterprises. A CMP removes complexity from cloud operations tasks and supports a range of customizable reporting options. Implementing a CMP also enables teams to use operational data for actionable security and operational intelligence.
Some enterprises forsake ITIL for a CMP and a process created in-house. For example, organizations write their own cloud management processes and frameworks that might include ITSM. CMPs manage IT assets and resources across multi-cloud environments. CMP cost management features also help organizations optimize cloud spending and eliminate resource waste. In addition, these tools ensure compliance with unified configuration and activity monitoring, and automate key cloud management and operations tasks to improve the productivity and efficiency of cloud initiatives.
Dig Deeper on IT Systems Management and Monitoring