TechTarget
CoffeeOps: A different kind of DevOps networking meetup
Looking to get into the DevOps meetup scene but prefer morning to nights and caffeine for alcohol? Try CoffeeOps, a less formal IT event built on the principles of DevOps culture.
It's a simple enough concept. Swap p.m. for a.m. and alcohol for coffee -- or tea, CoffeeOps welcomes all morning beverages -- and you have CoffeeOps. But when you change the ingredients of a meetup, naturally you end up changing the culture as well.
CoffeeOps got brewing when Jennifer Davis, then a software engineer at Yahoo, realized the culture at conferences and the DevOps networking meetup she ran didn't quite meet her needs. She drew on the idea of the coffeehouse during the Age of Enlightenment, when it was a social center of ideas and community. Her pitch was as simple as "coffee!" and the chance to engage with people from different IT disciplines outside the normal work environment, without excessively burdening life outside it.
"CoffeeOps literally is DevOps across organizations," Davis said.
Meetups the DevOps way
CoffeeOps takes the collaborative element of DevOps and applies it to the greater IT community. It's a place where Joe from Google and Jane from Microsoft can trade war stories, compare technologies and just vent. It provides opportunities for DevOps networking, helps people finish resumes and enables others to craft their voice for public speaking. Discussions -- most following the lean coffee format -- examine which technical topics are important and which are fluff.
CoffeeOps literally is DevOps across organizations.

Jennifer DavisSanta Clara organizer and senior software engineer at Chef
And according to Doug Ireton, senior engineer for 1Strategy and Seattle CoffeeOps organizer, it's addressing a meetup need. CoffeeOps is also a welcoming environment for students and DevOps newbies.
"I went to a technical meetup in Seattle. It was a nighttime meetup," Ireton said. "And there were three very strong technical talks, like from top-tier technologists. And from that sense it was a very good meetup. But no one said hello to me. No one cared that I was there. No one said goodbye to me. No one engaged me in conversation. It wasn't welcoming."
CoffeeOps is also proof that "DevOps culture" is more than platitudes. In Davis' group, folks have been able to switch positions and negotiate better salaries, based on CoffeeOps conversations. From an organization's standpoint, sending employees to conferences can cost thousands of dollars, while CoffeeOps just requires a few hours a week.
"There're these five elements of happiness [regarding job satisfaction], and one of them is about talking to people and feeling like you're accomplishing something," Davis said. "By interacting with other people, you're able to validate that what you're doing has value and also understand you're making a difference. So [CoffeeOps] keys into these things that organizations might not have the time or effort to invest in."
Many of the local organizers are tied to Davis in some way, who now runs a CoffeeOps meetup in Santa Clara and works for Chef, where Ireton's group meets in Seattle. Ireton describes Chef as a good balance, a for-profit but hands-off company open and supportive of the community. There are a dozen local CoffeeOps meetups, mostly on the West Coast, that meet anywhere from once a week to once a month.
Part workshop, part therapy session
The style of a CoffeeOps meetup depends on the number of attendees.
"If it's four or five people, we don't get very formal. We just hang out and talk," said Portland organizer Bill Weiss, a principal security architect at Puppet. "Five tends to be the cutoff when we [start to] follow the lean coffee format, which I know the Seattle folks do pretty religiously."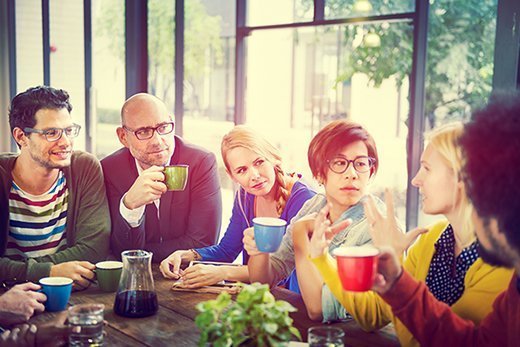 Folks show up, build their agenda democratically and start talking. They might discuss tech problems, GitHub solutions, strategies or communication issues, or engage in DevOps networking.
Sometimes, it turns into a therapy session.
"There's never any agenda or topic of the day," said Denver organizer Joe Block, a senior DevOps engineer at Castlight Health. "It's really whatever people want to talk about, and honestly a large part of it is what they want to complain about."
The Portland and Chicago groups are relatively new. Weiss started the Portland group in late 2016, and Mike Heijmans, a Bay-area transplant who worked with Davis at Yahoo, hosted Chicago's first meetup on Oct. 5th. Both groups have advantages in that their public transit beats the sprawl of the Bay. The Chicago group meets in The Loop, the city's financial district, and so far many of its members hail from the financial sector.
Secure DevOps breaks up cemented processes
DevOps and CI/CD have increased speed and agility while cutting costs across organizations. But that means applications aren't always as secure as they once were. So welcome SecDevOps to the scene, which aims to balance production with protection.
"Finance traditionally has -- in my opinion -- been kind of a burnout culture," Heijmans said. "You work till you burn out. And I think DevOps in general -- and especially Jennifer (Davis) and all the people involved in CoffeeOps -- it's an anti-burnout culture. And so there was a lot of discussion in both sessions about ... how are we balancing that and how are these different companies investing in it. Are they truly investing in this DevOps culture or are they just using it as a buzzword?"
Joining CoffeeOps is as easy as finding one in your city -- Meetup.com is a popular hub -- and showing up. Starting one is easy too. Create a meetup, get the word out and pick a place. And let the coffee and conversation take it from there.
Dig Deeper on DevOps Team Organization