lutya - Fotolia
DevOps value stream mapping process plots course at Nationwide
Nationwide prepares for the final stage of a 10-year Agile, Lean and DevOps transformation with value stream mapping process that unites IT and business workflows.
SAN FRANCISCO -- After a decade of change, Nationwide Insurance sees a DevOps value stream mapping process as its path to achieve IT nirvana, with an orderly flow of work from lines of business into the software delivery pipeline.
Since 2007, Nationwide Mutual Insurance Co., based in Columbus, Ohio, has streamlined workflows in these corporate groups according to Lean management principles, among software developers with the Agile method and in the software delivery pipeline with DevOps. Next, it plans to bring all those pieces together through an interface that creates a consistent model of how tasks are presented to developers, translated into code and deployed into production.
That value stream mapping process is a Lean management concept that originated at Toyota to record all the processes required to bring a product to market. Nationwide uses a feature called Landscape View in Tasktop Technologies' Integration Hub model-based software suite to create its own record of how code artifacts flow through its systems, as part of an initiative to quicken the pace of software delivery.
Other DevOps software vendors, such as XebiaLabs and CollabNet, offer IT pros information about the health of the DevOps pipeline and its relationship to business goals. But Tasktop applies the Lean management concept of value stream mapping to DevOps specifically.
"It's a diagram that shows all your connectivity and shows the flow of work," said Carmen DeArdo, the technology director responsible for the software delivery pipeline at Nationwide, in an interview at DevOps Enterprise Summit here last week. "You can see how artifacts are flowing ... What we're hoping for in the future is more metrics and analytics around things like lead time."
DevOps value stream mapping boosts pipeline consistency
Before Landscape View, Nationwide used Tasktop's Sync product to integrate the tools that make up its DevOps pipeline. These tools include the following:
IBM Rational Doors Next Generation and Rational Team Concert software for team collaboration;
HP Quality Center -- now Micro Focus Quality Center Enterprise -- for defect management;
Jenkins, GitHub and IBM UrbanCode for continuous integration and continuous delivery;
ServiceNow for IT service management;
New Relic and Splunk for monitoring;
IBM's ChangeMan ZMF for mainframe software change management; and
Microsoft Team Foundation Server for .NET development.
One Tasktop Sync integration routes defects from HP Quality Center directly into a backlog for Agile teams in Rational Team Concert. Another integration feeds requirements in IBM Doors Next Generation into HP Quality Center to generate automated code tests.
However, the business still lacked a high-level understanding of how its products were brought to market, especially where business requirements were presented to the DevOps teams to be translated into software features and deployed.
Without that understanding, teams unsuccessfully tried to hasten software delivery with additional developers and engineers. However, that didn't get to the root of delays in the creation of business requirements. Other attempts to bridge that gap with whiteboards, team meetings and consultants produced no sustainable improvements, DeArdo said.
The Landscape View value stream mapping software tool, however, presents a more objective view than anecdotal descriptions in a team meeting of how work flows to the DevOps team, from artifacts to deployments and incident responses. The software also helps the DevOps team understand lessons learned from incidents and apply them to application development backlogs.
Landscape View's objective analysis of the DevOps pipeline, complete with its flaws, forces the IT team to set aside biases and misunderstandings and think about process improvement in a new way, DeArdo said. "It's one thing to talk about value stream, and another to show a picture of what it could look like when things are connected."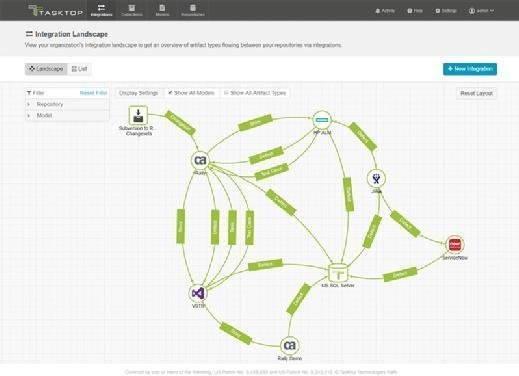 A more accurate sense of how its processes work will help Nationwide more effectively improve those processes, DeArdo said. For example, the company has already amended how product defects move to the developer backlog, from an error-prone manual process that relied on email messages to an automated set of handoffs between software APIs.
DevOps to-do list and wish list still full
A DevOps value stream mapping process doesn't mean Nationwide's DevOps work is done. The company aims to use infrastructure as code more broadly and bring that aspect of IT under GitHub version control, as well as migrate more on-premises workloads to the public cloud. And even with the addition of value stream mapping software as an aid, it still struggles to introduce companywide systems thinking to a traditionally siloed set of business units and IT disciplines.
"We don't really architect the value stream around the major DevOps metrics, [such as] frequency of deployment, reducing lead time or [mean time to resolution]," DeArdo said. "Maybe we do, in some sense, but not as intentionally as we could."
To address this disparity, Nationwide will tie traditionally separate environments, which include a mainframe, into the same DevOps pipeline as the rest of its workloads.
Anything that has a request and a response and an SLA has a target on its back to be automated.

Carmen DeArdotechnology director, Nationwide
"We don't buy in to the whole [bimodal] IT concept," DeArdo said, in reference to a Gartner term that describes a DevOps approach limited to new applications, while legacy applications are managed separately. "[To say DevOps] is just for the cool kids, and if you're on a legacy system, you need not apply, sends the wrong message."
DeArdo would like Tasktop to extend DevOps value stream mapping on Integration Hub with the ability to run simulations of different value stream models to see what will work best. He'd also like to see more metrics and recommendations from Integration Hub to help identify what's causing bottlenecks in the process and how to resolve them.
"Anything that has a request and a response and an SLA [service-level agreement] has a target on its back to be automated from a value stream perspective," he said. "How can we make it self-service and improve it? If you can't see it, you're only touching part of the elephant."
Beth Pariseau is senior news writer for TechTarget's Data Center and Virtualization Media Group. Write to her at [email protected] or follow @PariseauTT on Twitter.
Dig Deeper on DevOps and IT Certifications and Training