Fotolia
AppDynamics Business iQ shuffles wild cards into DevOps deck
Collaboration between DevOps and business leaders is ideal, but how to organize enterprise teams around shared monitoring tools remains an inexact science.
NEW YORK -- The next release of AppDynamics Business iQ broadens business performance insights for DevOps teams, but big companies still grapple with how best to use such tools.
The first AppDynamics Business iQ release since the company's acquisition by Cisco in January was previewed for customers this week here at AppDynamics Summit. The new release ties together events comprised of business transactions into chains called Business Journeys. The release also adds Experience Level Management (XLM), with which users can set custom thresholds to track VIP customers or critical accounts through such journeys.
With these new features, businesses can tailor application and infrastructure monitoring metrics to correspond to business performance needs. A financial services company, for example, could track individual customers through the loan application and approval process and use Business Journeys to identify where the process breaks down and potentially loses customers. An airline could track passengers from ticket purchase through boarding and arrival.
DevOps shops that already use Business iQ to track individual events plan to consider Business Journeys and XLM when they become available, though AppDynamics offered no time frame for the release.
Business iQ has already solved thorny problems for Financial Engines, a retirement investment advisory company in Sunnyvale, Calif. In the last year, Business iQ helped the fintech specialist's DevOps team troubleshoot an incident in which third-party URLs were blocked on customers' intranets, and personalized 401(k) information was no longer available in the Financial Engines application interface.
"We were able to fix this issue before customers reported it," said Ameya Joshi, software engineer for Financial Engines, in an AppDynamics Summit presentation. "Otherwise, it would usually be days or weeks before we saw our conversion rate go down, and we wouldn't know why."
Joshi said he's interested in trying Business Journeys when it becomes available, and Shilpa Dabke, the company's senior director of technical operations, also said the company will consider the tool.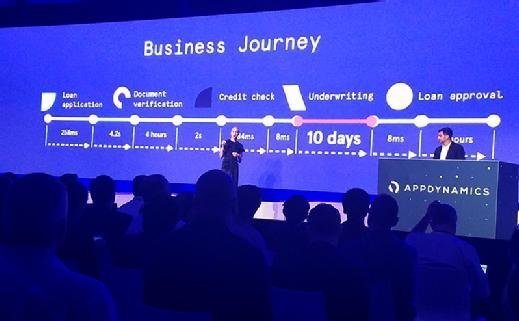 Business performance monitoring more art than science
AppDynamics Business iQ offers plenty of flexibility, but little guidance for enterprise organizations to bring together business goals with metrics that track application and infrastructure health. Business leaders with knowledge of key business performance indicators typically lack the technical skills to customize software and write XLM queries, while the technical experts with those skills may not understand how the business operates.
There's no standard approach to this kind of collaboration, AppDynamics Business iQ customers said, and ways to consume features such as Business Journeys are as varied as the companies that use them.
At Financial Engines, the technical operations team has demonstrated Business iQ features for business managers to spur brainstorms about how to use the tool.
"Sometimes, they don't know what they're looking for until they see the options available," Dabke said. "They'll look at the data and say, 'It would be nice to get a combination of this number and that number.'"
At CarMax, the DevOps team largely depends on individual members with a blend of business and technical experience to customize Business iQ metrics.
"To be a lead developer for us, you need some business acumen. And some of our technical product managers have technical capabilities," said Nathaniel Duncan, senior software developer with the automotive retailer in Richmond, Va.
It's so new to marry business data with IT operations data ... it's a good way for IT to engage the business, but it's not necessarily intuitive for customers what data they want.

Nancy Gohringanalyst, 451 Research
However, there's no standard process for collaboration between business and IT at CarMax, and every product team has its own way of working, Duncan added.
United Airlines, on the other hand, prefers not to blend business and technical roles and skills. The Chicago-based airline holds storyboarding meetings, where business managers and IT pros assess ways to use Business iQ features.
"When we're building a dashboard, it's a logical step to keep duties separate for compliance reasons and force that partnership between teams," said Bill Hineline, director of application performance management for United. "That separation of duties also minimizes the time we take from developers to create dashboards."
Throughout the industry, it's a toss-up whether business managers or IT pros take the lead with business performance tools like Business iQ. A 451 Research survey in early 2017 showed a fairly even split between the leaders of digital transformation initiatives. While 49% of digital transformation leaders were in business roles, 45% were in IT roles, among 1,738 respondents to the survey, Grand Strategy for Business Transformation: Partner for Success, which was commissioned by Microsoft.
"It's so new to marry business data with IT operations data, and so far it's largely been driven by vendors, not customers," said Nancy Gohring, analyst with 451 Research. "It's a good way for IT to engage the business, but it's not necessarily intuitive for customers what data they want."
Beth Pariseau is senior news writer for TechTarget's Data Center and Virtualization Media Group. Write to her at [email protected] or follow @PariseauTT on Twitter.
Dig Deeper on Real-Time Performance Monitoring and Management