adimas - Fotolia
Cisco buys Perspica to rev AppDynamics machine learning engine
Cisco will combine Perspica with AppDynamics as it preps DevOps monitoring tools that distill data from the end-user experience to individual network switch ports.
NEW YORK -- Cisco will combine its IT monitoring tools with technology from AppDynamics and the newly acquired Perspica to create products that offer predictive IT automation features.
Cisco Systems purchased Perspica, an IT operations analytics startup in San Jose, for an undisclosed price this week, and Perspica's 30 data scientists and developers will join the AppDynamics business unit. AppDynamics' App iQ platform, which includes Business iQ software, has machine learning features to analyze data at rest, while Perspica brings in streaming analytics that assess data in real time as it crosses the network.
This combination will boost the data ingestion performance of new DevOps monitoring tool bundles that Cisco previewed at AppDynamics Summit here this week. It will eventually help create products that predictively automate application workloads and IT infrastructure together, AppDynamics officials said.
AppDynamics customers are keen to use predictive automation to get ahead of IT issues as they face pressure to speed up software delivery and keep pace with infrastructure management under DevOps.
"I can only shave off so much time from my mean time to resolution," said Bill Hineline, director of application performance management at United Airlines in Chicago. "We've moved on from the world where we can play catch-up, and even being proactive now means we're too late -- being predictive would mean we're on time."
We've moved on from the world where we can play catch-up, and even being proactive now means we're too late -- being predictive would mean we're on time.

Bill Hinelinedirector of application performance management, United Airlines
Perspica's analytics in AppDynamics Business iQ software could let DevOps teams monitor customer experience as they use online services and potentially improve conversion rates, said Shilpa Dabke, senior director of technical operations for retirement investment advisory firm Financial Engines Inc. in Sunnyvale, Calif.
"If there's confusion for a customer as they move from one webpage to another, we could look at the flow of events as they happen," Dabke said. "Real-time data could be useful to figure out what to do differently to get the customer into the right workflow."
Cisco Systems to introduce IT monitoring packages
Perspica's machine learning features will also check off a wishlist item for some enterprise customers since Cisco bought AppDynamics for $3.7 billion in January: IT monitoring that integrates business performance management with network performance monitoring.
Products that fit that description are imminent, said Thomas Wyatt, vice president and general manager at AppDynamics, in a product roadmap presentation. Cisco will introduce product bundles and buying programs before year's end that apply AppDynamics application performance monitoring to workloads that run on servers managed with Cisco UCS Manager, for example.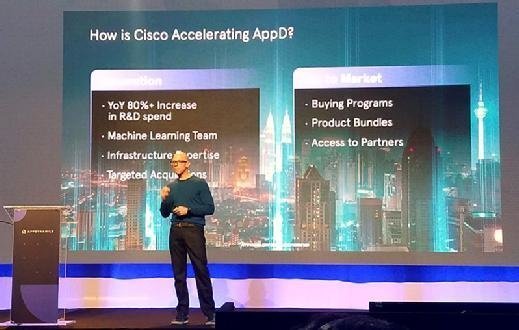 Some IT pros worry AppDynamics will stretch too deeply into infrastructure management as it integrates with Perspica.
"If they try to become all things to all people, it could dilute the product," said United's Hineline. "It won't replace other tool sets our network team uses for network visibility."
But a one-agent-fits-all approach isn't necessarily Cisco's goal for DevOps monitoring, Wyatt said. There may be areas that software monitoring agents can be consolidated, but for the most part they will remain separate while Perspica's analytics correlates data streams between them.
Cisco will eventually combine AppDynamics Business iQ and Perspica intellectual property with its Defense Orchestrator IT security automation software to match business transactions against a database of known vulnerabilities, Wyatt said. Another future product will proactively recommend infrastructure performance optimizations and kick off cloud bursting to accommodate peak application demands.
Not all IT ops pros will look to a single provider for IT monitoring tools, but they should pay attention to what Cisco does with Perspica as software-defined networks complicate the infrastructure beyond humans' capacity to manage it manually.
"Network administrators are being asked to write APIs and understand software-defined networks, and these products will be part of that new story," said Stephen Elliot, analyst at IDC.
Other application performance management (APM) vendors such as New Relic have also expanded into infrastructure monitoring as full-stack monitoring became trendy in the last year. Cisco, however, has more network management credibility to lend AppDynamics as it incorporates infrastructure data.
"There's no way other APM vendors are going to deliver the same depth of insight as stand-alone network performance management vendors," said Nancy Gohring, analyst at 451 Research. "The relationship with Cisco creates a different situation for AppDynamics."
Beth Pariseau is senior news writer for TechTarget's Data Center and Virtualization Media Group. Write to her at [email protected] or follow @PariseauTT on Twitter.
Dig Deeper on Real-Time Performance Monitoring and Management