beawolf - Fotolia
CA Automic refines DevOps tools as enterprise market heats up
Expanded integrations between CA Automic tools should appeal to enterprise IT executives, amid anticipation that big companies will increase DevOps investments next year.
CA Automic enterprise customers will have new integrations between IT automation tools, as anecdotal evidence suggests big companies plan to ramp up DevOps spending next year.
Nearly one year after CA Technologies merged with Automic, the combined companies this week introduced new integrations between products that began as the Modern Software Factory suite of CA DevOps tools and Automic's application release automation tool. Both companies also laid the groundwork for future AIOps products with an Intelligent Automation platform that ingests and acts on data analytics from a variety of sources.
With these newly integrated products, CA Automic hopes to take advantage of enterprise IT investments in DevOps tools, which consultants and analysts predict will increase in 2018. CA Automic, which is often perceived as a legacy enterprise IT software vendor, may have a tough time selling its products to individual developers, who tend to craft their own chains of API-integrated open source tools. But version 12.1 of the CA Automic One automation platform will hold more appeal for companies that want to use DevOps tools as a bridge to newer open source utilities such as Jenkins and to modernize what they already have.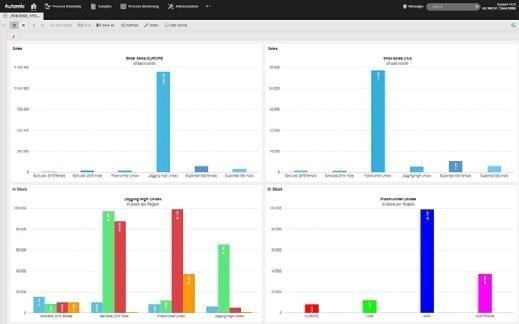 Enterprise IT shops will seek out this end-to-end approach as they begin to embrace DevOps more broadly, said Zubin Irani, CEO of cPrime Inc., an Agile software development consulting firm in Foster City, Calif., who works with CA Automic customers.
"This kind of tighter integration [between tools] is a foreshadowing of what's to come, and what enterprise customers need," Irani said.
This kind of tighter integration [between tools] is a foreshadowing of what's to come, and what enterprise customers need.

Zubin IraniCEO, cPrime Inc.
A comprehensive portfolio of tools will also appeal to C-level enterprise executives. Developers increasingly make their own decisions about what DevOps tools they use, but those executives are the ones cutting the checks and deciding what to use long term, Irani said.
Enterprises have begun to plan next year's IT budgets, and most will commit substantial money to DevOps, and there could be friction between top-down purchasing strategy and developers' tool choices as those budgets are spent, Irani predicted.
However, most well-established DevOps vendors understand that they live in a heterogeneous world, and must integrate with existing tools, said Steve Hendrick, an analyst at Enterprise Management Associates (EMA) in Portsmouth, N.H. He doesn't foresee such friction between upper management buying decisions and developers' tool preferences except in extreme situations.
Unlike the expensive and unwieldy comprehensive software frameworks of the past, CA Automic tools offer API integrations called Action Packs with other popular open source DevOps tools such as Jenkins and Cucumber for application testing, as well as configuration management tools from Chef and Puppet. The Automic product roadmap will favor CA tools, but those Action Packs will be preserved, said Ron Gidron, a technology evangelist at CA Automic.
The version 12.1 release of the CA Automic One Automation platform brings new DevOps automation features to tools such as Test Data Manager that automates the generation of test data in continuous integration environments. Another integration, with CA's Service Virtualization software, automates infrastructure provisioning in dev/test environments that's triggered by software builds during application release. A new integration between Automic's automation IP and CA Application Performance Management prevents performance degradations triggered by automated remediation, such as provisioning new server capacity. Finally, integration between Automic One and CA Privileged Access Manager, with IP that CA acquired in May 2017 with Veracode, automates the approval process for application rollouts and makes code reviews for security part of the application release process.
CA Automic Intelligent Automation lays AIOps groundwork
Another hot topic for IT is AIOps, an emerging field in which data analytics and machine learning algorithms trigger automated IT responses to troubleshoot and ideally prevent problems. CA Automic also introduced the Intelligent Automation platform, which combines CA data analytics and Automic automation tools to offer AIOps features.
The platform is still emerging and its exact capabilities are vague, but one possible application of new data ingestion features in Automic tools is the use of financial forecast data to trigger proactive IT infrastructure provisioning, Automic executives said.
There's plenty of hype around AI in general right now, but recent discussions with enterprise clients show there is real interest in these tools, said Dan Twing, president and COO of EMA.
Here, as in DevOps, it's important that AI tools smoothly integrate with IT management software to offer automated remediation of issues or proactive incident prevention, Twing said.
Beth Pariseau is senior news writer for TechTarget's Data Center and Virtualization Media Group. Write to her at [email protected] or follow @PariseauTT on Twitter.
Dig Deeper on Configuration Management and DevOps