fabioberti.it - Fotolia
Chef fortifies its build automation tools with Habitat Builder
Build automation presents a steep learning curve for enterprise DevOps shops, but Chef Habitat Builder is based on accessible scripting tools and offered as SaaS.
Build automation tools are key for DevOps, but not easy for enterprise IT ops pros to deploy. Chef Habitat Builder, released by Chef this week, aims to ease that burden with SaaS.
The service follows the launch of Chef Habitat as an open source project in 2016, and updates earlier in 2017 that offered more assistance for the company's core enterprise IT operations customer base. These enterprise-friendly features include prebuilt templates for Postgres, WordPress, and common infrastructure functions such as backup and recovery, as well as integration with the Chef InSpec compliance-as-code tool.
Chef Habitat Builder introduces integrations with GitHub that connect the build automation tool into application code repositories, and with Docker Hub, Kubernetes and Pivotal Cloud Foundry to automate the deployment of application code to container-based infrastructures in the public cloud. With SaaS, Chef Habitat Builder seeks to aid enterprise IT customers who struggle to deploy build automation tools on premises.
Early adopters value Chef Habitat Builder because app deployment will speed up through the service's support for other public cloud utilities such as the Fastly content delivery network.
"If you've ever had to wait for Docker images to download, you know the value of that, and using a very tiny amount of bootstrapping code to get your application onto machines quickly," said Blake Irvin, engineer at SmartB Energy Management GmbH in Berlin, a startup founded in 2014 that makes energy monitoring and management products for commercial buildings.
Build automation tools reach out to IT ops
Chef's reputation as a tool with a steep learning curve for IT ops specialists is based on its early days in which its codebase was written in the then-trendy Ruby language that was unfamiliar to non-developers, Irvin said. He has been a Chef user at various companies since 2010, and brought Chef Habitat into SmartB in 2015 to replace Ansible.
[Configuration management vendors] must remain accessible to their bread-and-butter enterprise IT user base, but also catch the eye of savvy application developers who increasingly decide what tools are used to build and deploy their apps.
Chef Habitat's core, however, is rewritten in Rust, a more straightforward language, Irvin said. Chef Habitat also distributes files based on standard Linux tarballs and application package plans written in Shell scripts, which are generally more accessible than other DevOps automation tools.
This approach also allows Chef Habitat, and by extension Chef Habitat Builder, to package most apps regardless of the programming language in which they are written, which has become fashionable in a polyglot app dev world.
That terminology might be lost on some enterprise customers, who at ChefConf in May hadn't puzzled out how Chef Habitat differs from packaging apps in containers using Docker.
Meanwhile, Chef Habitat Builder's initial focus is containers -- specifically, within public cloud infrastructure and applications whose images can be stored in a public repository called a depot, managed by Chef. The new service doesn't yet integrate with the Chef Automate umbrella IT automation product or Red Hat's OpenShift, though Chef representatives said both integrations remain in the company's plans. Built-in deployment to private clouds on premises is still in the early stages -- Chef Habitat will support VMs and bare metal infrastructures, but those features are still rough, Irvin said.
Chef plans to release Habitat and Habitat Builders features weekly. Some features include private depots and a supported version of a scaffold or connector to apps written in Python, which remains popular among enterprise developers. Irvin said he expects to see most of Habitat's kinks worked out in the next six months or so.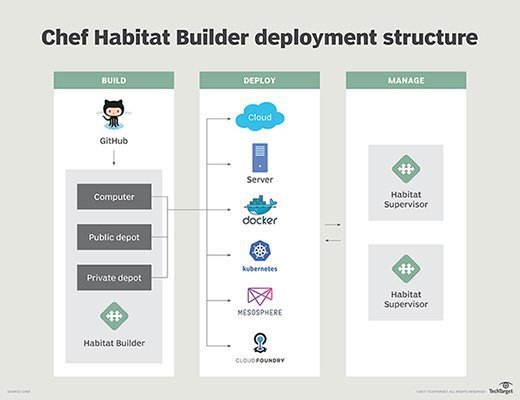 Configuration management vendors not in Kansas anymore
Configuration management competitors, including Chef, are in a curious position as the DevOps market matures. They must remain accessible to their bread-and-butter enterprise IT user base, but also catch the eye of savvy application developers who increasingly decide what tools are used to build and deploy their apps. In the old days, Chef and Puppet dominated the market, but developers now have many choices for infrastructure as code and build automation tools, such as Red Hat Ansible, SaltStack, Amazon Web Services CloudFormation, and HashiCorp's Terraform.
"Dev and Ops have the same end goal, but still think very differently as enterprises gain maturity with DevOps," said Stephen Elliot, analyst at IDC in Framingham, Mass. "Companies like Chef increasingly have to recognize where a potential customer is in that learning curve when they talk to them."
Chef covets the developer audience, but has recognized its core customers also must change and is trying to serve both with products like Chef Habitat Builder, Elliot said. One advantage for core customers is that they are typically already familiar with Chef, though Habitat's features around code deployment automation likely will resonate more with developers. A foot in each of those worlds presents a challenge for products like Habitat Builder as Chef attempts to branch out into much broader sets of IT automation features than were offered by the original configuration management tools.
Lost in the fray by most vendors in this market, Chef included, are the business-level CIOs and other executives under pressure to transform their businesses and compete in the fast-moving web application world, Elliot said.
"You look at all this stuff and it's technology after technology," Elliot said. "We're early in the cycle and these are tech firms, but at the end of the day, [for enterprises,] it's about time to market, the speed of product delivery and better product quality."
Beth Pariseau is senior news writer for TechTarget's Data Center and Virtualization Media Group. Write to her at [email protected] or follow @PariseauTT on Twitter.