kjekol - Fotolia
IT industry grapples with Docker container persistent storage
Enterprise IT pros are unanimous: The next item on the containerization to-do list will be persistent storage for stateful apps.
AUSTIN, Texas -- As IT shops adopt containers, stateful apps and container persistent storage are the elephants in the room.
Docker container persistent storage has supplanted container security as the top challenge for the technology in enterprise data centers. Several startups have blossomed with approaches to persistent distributed storage systems, but enterprise uptake remains in its infancy.
"Storage is a huge problem. It's a concern for everybody," said Ray Krueger, VP of engineering at Hyatt Hotels.
The recent demise of one such startup, ClusterHQ, weighed on the minds of IT pros at this year's DockerCon, here this month, as other new vendors hawked their wares. ClusterHQ's open source utility, Flocker, allowed external storage volumes to retain their connection with container workloads as containers stopped and started. However, the firm struggled to maintain its business under an open source software license model.
Flocker remains a viable open source project, but IT pros are now hesitant to embrace it.
"Without ClusterHQ championing it, I don't know where we're going to go," Krueger said.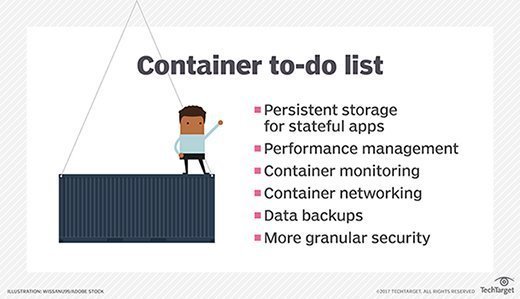 Docker container persistent storage startups make inroads
Ideally the Cloud Native Computing Foundation should step in to create a storage standard around Flocker with backing from traditional IT vendors, Krueger said. In the meantime, his team has explored technology from another startup, Portworx.
Portworx's technology is deployed as a container and carries everything needed on each host to operate a stateful application. Portworx supports stateful storage for any database that runs on Linux. It offers enterprise data management and security features such as access control lists, audit logs, encryption and high availability at the container level.
At a basic level [persistent storage] is working, but it's not very robust.

Gary Chenanalyst, IDC
Bioinformatics firm Translational Genomics Research Institute (TGen) uses Portworx software in production with its Dell EMC storage arrays.
"An important part of the whole workflow was getting that storage piece right," said James Lowey, CIO of TGen. "The Portworx storage system will allow us to get into clinical data sooner."
The lifespan of code can outlast the technology that runs it, Lowey said. TGen wanted to be able to put data into a container, ship it to an archive and be able to rerun tests two to five years down the road, which Portworx storage containers will allow.
An immature market faces growing pains
Established storage vendors have also entered the Docker container persistent storage fray. EMC's code division was also at DockerCon to demonstrate its high availability and disaster recovery features for the REX-Ray persistent storage plug-in it offers in the Docker Store.
But while EMC is trusted in enterprise storage, REX-Ray is still on version 0.8. And plug-ins from storage vendors don't necessarily address data management, replication or other enterprise storage features yet either, said Gary Chen, an analyst at IDC, the Framingham, Mass., market research firm.
"At a basic level [persistent storage] is working, but it's not very robust," Chen said.
Startups such as Portworx and Blockbridge may have a better mousetrap, but it's tough to be a new company in the storage market and earn users' trust for products that sit in the data path, Chen added.
The enterprise storage closet can hold many skeletons related to data mismanagement and organizational confusion, said Taylor Brown, principal lead program manager for Windows Virtualization at Microsoft, in an interview last week. Even though tools exist to address container storage, enterprises may not be ready to use those tools.
Right now, containerization efforts "are teaching people where their data actually lives," Brown said.
Beth Pariseau is senior news writer for TechTarget's Data Center and Virtualization Media Group. Write to her at [email protected] or follow @PariseauTT on Twitter.