New VMware DevOps program boosts developer interest
The first-ever Developer Day at VMworld 2015 was the virtualization giant's first crack at courting a new developer and DevOps audience.
SAN FRANCISCO – VMware looked to broaden its developer audience at VMworld with a new DevOps program and a free Developer Day.
More than 1,000 people attended sessions that either targeted or touched on DevOps. VMware also discussed its own adoption of DevOps and agile software development (ASD) methods. The strategy behind these steps is to expand its cloud native story and also hold on to its user base with easier access to cloud-first infrastructure with vCloud Air. In the long run, VMware also hopes to have a development platform that can attract younger developers who work in lean startups with little or no IT staff.
DevOps is a key practice used in high performance IT organizations, and a hot commodity on the job market. It removes the traditional silos between development and operations teams, which can speed software delivery, and also recognizes the ease with which developers in line of business organizations can access virtual resources on public cloud platforms. Using modern development tools, DevOps can bring continuous integration and continuous deployment to data center operations.
VMworld 2015's DevOps program included workshops on installing and using popular tools, such as Chef and Puppet, and also hosted a hack-a-thon for apps running in vCloud Air. It operated as a mini-conference within VMworld and a promotional code allowed participants to sign up for vCloud Air accounts with $600 credit – double the usual trial credit.
This is only the beginning of a DevOps wedge strategy to extend the appeal and reach of VMware in the new, more agile world of open source software and cloud native startups, said Bob Webster, VMware Technical Marketing Manager of vCloud Air Application Services.
"Our overall strategy is to first make vCloud Air a first-class platform for delivering DevOps to enterprise customers and to also to promote DevOps as a successful practice," Webster said. "We also need to emphasize the role of people and process in DevOps."
VMware has even invested in DevOps internally, acquiring MomentumSI, a professional services firm that specializes in agile and DevOps training, late last year.
These are all moves VMware needed to make to engage more with developers and application architects on cloud initiatives, said Eric Nielsen, VMware's Director for social media and communities.
VMware doesn't plan to compete with larger existing developer events, but will attend and sponsor established developer-focused events, including the upcoming Spring One conference, where the company will extend the option to sign up for free vCloud Air trial accounts, Nielsen said.
VMware hoped to learn enough from the mini conference to offer a similar format to developers in many local regions, he said.
"Part of our strategy is to make developers in enterprise data centers into rock stars, so they can feel as cool as the guys in startups that get to play in the cloud in agile ways," Nielsen said.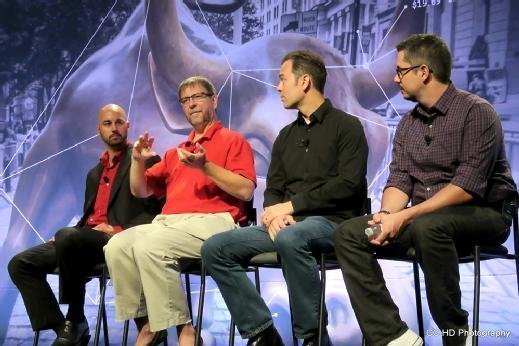 Nielsen, who helped build Sun's BigAdmin community years ago, said DevOps will be a key part of VMware's educational activities and offerings.
Pradeep Prabhu, co-founder and CEO of Seattle-based DevOps software company CloudMunch, found the DevOps sessions valuable.
"We met with a lot DevOps practitioners and learned more about their development process," he said."I was enthused that DevOps was a prominent track [at VMworld] and that a separate DevOps program ran three days," Prabhu said. "That's a big departure from previous years and shows how far DevOps has come."
Chad Lashley, director of hosted solutions at ECi Software Solutions, in Fort Worth, Texas, attended the panel of DevOps tools vendors and other DevOps sessions. "This just hit the spot for me," he said. "We have got to do something like this at my company to keep from falling behind."
Dig Deeper on DevOps and IT Certifications and Training