News
Stay informed about the latest enterprise technology news and product updates.
Data center budgets reflect increased IT infrastructure demands
Data center budgets are up as IT infrastructure capacity is reached, according to the Uptime Institute survey. But how will the extra money be spent?
Though many companies have responded to the economic downturn by reducing their spending, they haven't been able to cut their data center budgets.

Download this free guide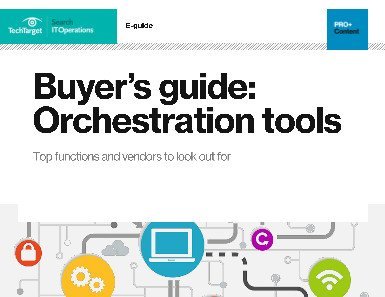 Orchestration tools: Our experts' vendor-neutral analysis
Orchestration tools are becoming increasingly popular as part of the DevOps process as they allow admins to focus on more critical tasks, rather than the routine steps it takes to move a workflow along. Our experts analyze the top solutions in the market, namely: Automic, Ayehu, BMC Control-M, CA, Cisco, IBM, Micro Focus, Microsoft, ServiceNow, and VMware.
Some organizations have had to increase their data center budgets because of IT demands, according to the Uptime Institute 2012 Data Center Survey.
The Uptime Institute polled more than 1,100 data centers across several industries and government agencies and found an increase in budgets almost across the board. Data center budgets have increased since 2010; 32% of respondents reported budgets have increased 10% or greater between 2011 and 2012, up from 27% between 2010 and 2011.
In spite of a slow economy, the increase in data center budgets speaks to greater IT demands.
"People still need to keep running their businesses, applications keep growing; you want to keep getting new customers," said Matt Stansberry, director of content and publications for the Uptime Institute.
Even during the recession – 80% of those surveyed had built or upgraded data centers in the last five years, yet data center power, cooling and space capacity is still stretched to its limit. That may be one reason budgets continue to increase.
Typically, the budget goes into infrastructure, rather than additional employees, Stansberry said.
"People are getting more and more servers, more and more responsibilities, more and more infrastructure ... but with the same amount or less staff," said Stansberry.
This situation is why data center infrastructure management (DCIM) and automation tools were created, and though the majority of the Uptime Institute's survey respondents had some sort of DCIM tools at work in their data centers, DCIM should be used with other infrastructure and data management options to meet increased IT demands.
"We don't necessarily think that will always be a solution or that people are actually going that route," said Stansberry.
Other alternatives such as colocation and cloud computing are on the rise as well, according to the survey. As data centers outgrow their current footprint, cloud computing might see a bit more business.
Dig Deeper on Scripting, Scheduling and IT Orchestration