News
Stay informed about the latest enterprise technology news and product updates.
A data center colo expands its CMDB to include facility items
A data center colocation company now includes facility items in its configuration management database to more quickly identify which customers could be affected by an outage.
Phoenix--based i/o Data Centers upgraded its change management program and in the process discovered a technology to help shrink the IT-facilities gap. In this interview, CTO Matt Calhoun discusses the company's new configuration management database (CMDB), which includes IT and facilities items.
For more on CMDBs and data centers:
Data management grows up: From CMDBs to CMSes

Yielding short-term ROI, CMDBs gain favor
What did you use previously to track change management, and why did you upgrade?
Matt Calhoun: We actually were using the trouble-ticketing function built into our CRM [customer relationship management] product. We found that we were outgrowing that, just from a complexity perspective. We needed something focused more on the operational side of our business.

Download this free guide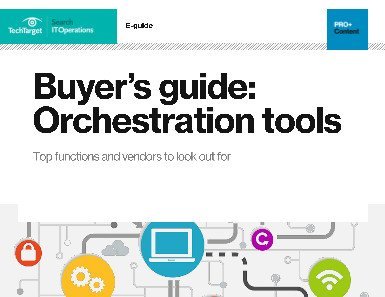 Orchestration tools: Our experts' vendor-neutral analysis
Orchestration tools are becoming increasingly popular as part of the DevOps process as they allow admins to focus on more critical tasks, rather than the routine steps it takes to move a workflow along. Our experts analyze the top solutions in the market, namely: Automic, Ayehu, BMC Control-M, CA, Cisco, IBM, Micro Focus, Microsoft, ServiceNow, and VMware.

By submitting your personal information, you agree that TechTarget and its partners may contact you regarding relevant content, products and special offers.

You also agree that your personal information may be transferred and processed in the United States, and that you have read and agree to the Terms of Use and the Privacy Policy.

Can you give an example of what you mean by the 'operational side'?
Calhoun: A big one is the CMDB. We are now able to model a lot of the infrastructure in various components, and we're also able to identify what pieces of infrastructure will be affected if there were to be maintenance or any change in the environment. So your CMDB includes facilities items as well as IT items. Why?
Calhoun: Our core product is data center colocation, so we have to deal with all those complexities. The more [ uninterruptible power supplies] we have, the more [power distribution units] we have. We have to track the interrelation between all of those [components] and how doing maintenance to a UPS could affect a PDU and how that might affect a particular customer. That way we can communicate to them that we're doing maintenance and what we're doing to prevent them from going down. What did you do previously?
Calhoun: Prior to CMDB implementation, we would have to manually go over documentation to identify these interdependencies and customer impacts. … Now a technician can receive an incident report and can quickly determine which customers might be affected by that. It helps to increase our overall reliability and behave more responsibly and proactively.

Let us know what you think about the story; email Mark Fontecchio, News Writer. Also, check out our blogs: Data Center Facilities Pro, Mainframe Propeller Head, and Server Farming.
Dig Deeper on Configuration Management and DevOps