News
Stay informed about the latest enterprise technology news and product updates.
Change and configuration management cut firm's downtime
State Street Corp., one of the largest financial firms in the country, implemented change and configuration management software and hasn't had any configuration-related downtime since.
Three years ago, Joe Kennedy had four IT people at State Street Corp. working on configuration management, handling eight applications, 11 developers and 350 desktops.

Download this free guide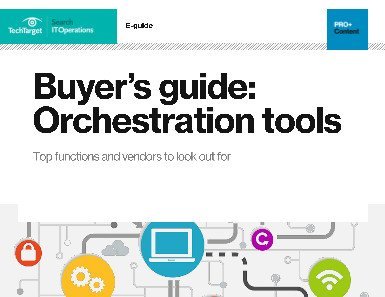 Orchestration tools: Our experts' vendor-neutral analysis
Orchestration tools are becoming increasingly popular as part of the DevOps process as they allow admins to focus on more critical tasks, rather than the routine steps it takes to move a workflow along. Our experts analyze the top solutions in the market, namely: Automic, Ayehu, BMC Control-M, CA, Cisco, IBM, Micro Focus, Microsoft, ServiceNow, and VMware.
Now, the same number of people handle four times as many applications and almost six times as many developers and desktops. How? With CMDB software his company bought two years ago, which "logs into the systems every five minutes and sucks all the information from the configuration files," he said. "If there's a change, you will be notified, and you can have a setting so you can compare the old with the new configuration file."
The software -- mValent's Integrity -- has the ability to save versions of a system's configuration, allowing data center managers to go back to an earlier version to figure out what changed in an application, either for mainframe or distributed systems. Data center managers can create reports for internal auditing or to comply with industry or government regulations, such as the Sarbanes-Oxley Act (SOX), which details how long companies should store electronic records. The software can also weave itself into third-party trouble-ticket programs to better connect the flow from incidents to solutions.
"We end up supporting more applications with a consistent head count," Kennedy said during a presentation at the AFCOM Data Center World show in Las Vegas last month. "A lot of people, when they see some of these configuration management tools, they're worried about what it will do for their IT jobs. Will it cut jobs? We ended up being able to do more on the innovation side."
Before Kennedy went and bought this CMDB software, he said that about 40% of the company's downtime was due to configuration errors. Since July 2005, he said there has been no downtime due to configuration errors.
His introduction to the software was timely. Two developers at State Street were having trouble getting their code to work together properly and had spent days trying to determine the cause of the problem. A representative from mValent came in to try to sell the configuration management software to State Street, and so Kennedy put it to the test. They connected it to a laptop one of the developers was running.
"It was able to log in and find out that the Oracle drivers were wrong," he said. "It took about seven minutes. I bought it that day."
Kennedy said mValent Integrity does more than just reduce downtime. Its user interface looks like a folder structure, so Kennedy can click on any of them to see the configuration files for the systems in his data center and see what has changed.
This capability gives him peace of mind come audit time. Before, Kennedy joked that they would send all the auditors into a remote, glassed-in room and give them piles of paperwork to sort through. Now State Street presents them with the same user interface used by their developers, so the auditors can see what changes have been made, how they were tracked, and what was done if action was necessary.
"Now it's been measured," he said. "Now we know the changes are in sync with the processes we put in place. Those changes are all backed up, monitored, distributable and viewable. There is no need to worry about auditors if you're doing everything right."
Let us know what you think about the story; e-mail: Mark Fontecchio, News Writer.
Dig Deeper on Configuration Management and DevOps