News
Stay informed about the latest enterprise technology news and product updates.
CA aquires workload automation solutions provider Cybermation
The acquisition of Cybermation Inc. by IT giant CA Inc. gives CA customers a path to a process automation; job scheduling. For CA, it means one fewer competitor.
The acquisition of Cybermation Inc. by IT giant CA Inc. gives CA customers a path to a process automation; job scheduling. For CA, it means one fewer competitor.

Download this free guide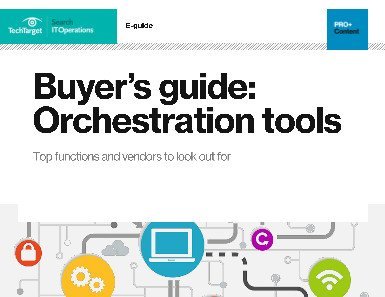 Orchestration tools: Our experts' vendor-neutral analysis
Orchestration tools are becoming increasingly popular as part of the DevOps process as they allow admins to focus on more critical tasks, rather than the routine steps it takes to move a workflow along. Our experts analyze the top solutions in the market, namely: Automic, Ayehu, BMC Control-M, CA, Cisco, IBM, Micro Focus, Microsoft, ServiceNow, and VMware.
By submitting your personal information, you agree that TechTarget and its partners may contact you regarding relevant content, products and special offers.
You also agree that your personal information may be transferred and processed in the United States, and that you have read and agree to the Terms of Use and the Privacy Policy.
"It's a pretty smart deal at a reasonable price," said Stephen Elliot, research manager at Framingham, Mass.-based analyst firm IDC. "It keeps [Cybermation] out of the hands of BMC and IBM. It's a mature market. If you can get a leading-edge technology at a fair price, while taking out a competitor, you do it."
CA announced yesterday that it reached a deal to acquire Cybermation, a privately held company in Markham, Ontario, for $75 million. According to Islandia, N.Y.-based CA's press release, Cybermation earned $30 million in revenue in 2005 and turned a profit.
CA said it would market Cybermation's job scheduling solutions as standalone products, and it would also integrate them into CA's larger workload process automation solutions portfolio.
"Customers of Cybermation should feel pretty good about this deal, because CA will invest engineering dollars into the [Cybermation] platform," Elliot said.
However, Elliot warned that maintaining Cybermation's high level of customer support could be a challenge for CA.
"Since it was a relatively small company, they surveyed their customers, they had high renewal rates, and they took development feedback from customers and put it into the product," Elliot said. "That's an area CA has been challenged with throughout the company. There are some good practices there [in Cybermation] that CA can duplicate."
Elliot said CA will benefit from adding a leading job scheduling solution to its portfolio. With Cybermation in the fold, CA will now have a "migration path toward next-generation job scheduling" for its existing customers. This could help retain customers that CA may otherwise have lost to BMC Software Inc. or IBM.
"Cybermation was winning deals because of their architecture, interfaces and integration. These are three areas that existing CA customers will want to take a look at as they upgrade their job scheduling and event-driven automation," Elliot said.
There could be some headaches on the account management side as CA's larger sales force and Cybermation's sales force sort out who gets paid for what and when, Elliot said.
Overall CA has taken a step toward growing its job scheduling business. Elliot said CA needs to add new customer contracts in the market. Buying a competitor was a "good first step," he said, but CA needs to grow the business. He said Cybermation's talented customer management team could help.
Let us know what you think about the story; e-mail: Matt Stansberry, Site Editor
Dig Deeper on Configuration Management and DevOps