News
Stay informed about the latest enterprise technology news and product updates.
Server management costs soar, says IDC
According to IDC's latest report, server revenues are down while shipments are up. But IT shops are picking up the cost of managing more machines.
Server management costs: According to IDC, server revenues are down because data centers are increasingly getting more for less. But the money being saved on machine costs aren't lining anyone's pockets -- data center managers still have to pay the piper.

This realization has come as organizations shift their focus to purchasing a high number of low-level boxes instead of relying on a few high-powered machines to act as the work horses for the company. According to IDC's quarterly server report, sales slowed slightly in the fourth quarter of 2005 when compared to numbers from the same quarter a year earlier, but the number of units being shipped is on the rise.

Download this free guide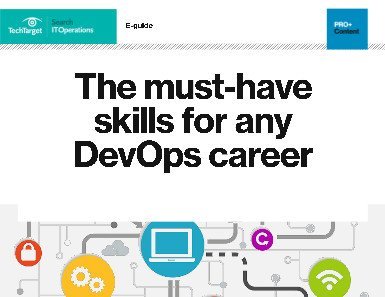 PDF: The DevOps career skills you need
IT as a whole is making a noticeable shift towards a DevOps culture. So what do skills do you need to keep yourself relevant in this new environment?
For every server that is purchased and installed, management costs increase exponentially. Matt Eastwood, vice president, enterprise server research for Framingham, Mass.,-based IDC says that a penny saved in initial cost is a dollar spent on management. "IT pros are always interested in getting the best deal that they can when they purchase new equipment. But what they are beginning to realize is that the cost of maintaining a server is five to seven times the purchase price."
Cheaper servers may look great when data center managers are filling out budgets -- money is saved in the initial investment and the result is the same as purchasing a high-power mainframe, but there is a catch: Someone has to perform maintenance on the new machines.
"Smaller servers are a lot like bunny rabbits -- they have a tendency to pop up everywhere. As they get smaller and more inexpensive, they turn up under desks, in closets, anywhere. But they still have to be taken care of," Eastwood says.
Those initial savings that are seen from smaller servers evaporate quickly when the reality of the situation sets in. How many new employees need to be hired to keep the new servers running?
"The price of technology is constantly dropping," said Clay Rider, president of Union City, Calif-based Sageza Group Inc. "When was the last time you went to buy a computer because the prices were about to go up? That doesn't happen. When a company releases a new chip, the first thing they do is lower the cost of all the old ones. But the human cost is always rising."
The market share segment of the report wasn't much of a surprise. IBM continued its hold on the top spot in the fourth quarter of 2005 with a 38.4% market share that resulted in revenue growth of 0.8%. Hewlett-Packard Co. continued to hold a firm second position with 26.8% of the market and a revenue increase of 3.8% when compared to the same quarter last year. Dell Inc. held the third spot with a 9.6% share of the market, while Sun Microsystems Inc. posted a year-over-year decline in revenue of 10.9% in the fourth quarter.
Last year proved to be one of change for operating systems as Windows emerged as the dominant platform. For the past 10 years, Unix has dominated the market and consistently been the No.1 selling OS over Windows and Linux.
In the fourth quarter, Unix experienced a 5.9% decline in revenue to $5.0 billion, which represented 34.3% of the market share. Over the whole of 2005, Unix generated $17.5 billion in total revenue and was narrowly edged out by Windows for the top spot. Windows revenues increased 4.7% to $4.9 billion last quarter. However, over the year Windows generated $17.7 billion, which knocked Unix from its perch. Linux generated $1.6 billion in quarterly revenue and accounted for $5.7 billion in 2005, which placed it third.
Let us know what you think about the story; e-mail: Matt Stansberry, News Editor
Dig Deeper on Real-Time Performance Monitoring and Management