News
Stay informed about the latest enterprise technology news and product updates.
Sun shines on identity management
Recent announcements from Sun have created a buzz around the identity management market with open source applications and new customers.
Sun Microsystems Inc. has tapped into the pulse of the identity management market.
The Santa Clara, Calif.-based company has recently taken its Web single sign-on (SSO) offering open source, while at the same time announcing high profile implementations of its Java-based identity management software.

Download this free guide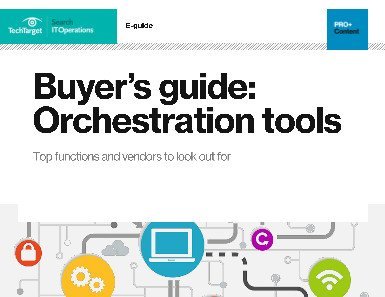 Orchestration tools: Our experts' vendor-neutral analysis
Orchestration tools are becoming increasingly popular as part of the DevOps process as they allow admins to focus on more critical tasks, rather than the routine steps it takes to move a workflow along. Our experts analyze the top solutions in the market, namely: Automic, Ayehu, BMC Control-M, CA, Cisco, IBM, Micro Focus, Microsoft, ServiceNow, and VMware.
Identity management is software that automates administrative tasks, such as resetting user passwords. It can also reduce the time it takes IT managers to provision numerous user accounts and can automatically expire old user passwords, which often raise security concerns.
Sun's plan to open source its Web SSO -- a major component of its identity management software -- will empower Java developers to help push identity management evolution through the Open Source Web Single Sign-On (OpenSSO) project. Sun hopes to plug developments from OpenSSO into future identity management offerings.
Sun's identity management director, Eric Leach, said Sun's decision to take Web SSO open source was simple. The company has more important issues to tackle -- such as federation and auditing -- and Sun wanted to get the ball moving with developers.
"What we're trying to do is to move the market forward and change the conversation people are having in the market," Leach said. "The market is ready for the technology to be open sourced."
Charles King, principal analyst for Hayward, Calif.-based Pund-IT Research, said Sun's decision is indicative of a larger thought process starting to take hold among the largest vendors regarding open source applications. They've begun to realize that if they pour a ton of dough into a certain technology, then find that nobody's using it because of cost concerns, they're in trouble.
"The idea of opening up technology as a way to ease the development of applications is becoming increasingly popular," King said. "Even if it's free, if people are using the technology, they'll be working with you and your technology over the long haul."
By bringing together some of the most important aspects of data center management -- security, open source development and the efficient management of resources -- Sun has raised the tool's profile in IT organizations.
"If you can make the argument that if the data center is the final arbiter for your IT infrastructure, then [identity management] would be high on your list of concerns," King said.
Meanwhile, Sun has been busy selling its Java-based identity management software to high profile companies, including U.K.-based division of T-Mobile International, Fairfield, Conn.-based General Electric Co. and Detroit-based General Motors.
GM is using the identity management software as part of a larger implementation of Sun's Java Enterprise System across its IT infrastructure, while T-Mobile is using Sun's Java System Identity Manager on a new customer service portal in Europe.
GE will be using the Java System Identity Manager to provision and de-provision user accounts across 450,000 users, based on an individual's specific job function, geography and role.
"Sun Java System Identity Manager gives us an exceptional platform for managing identity profiles and permissions, which enhances our overall enterprise security while allowing us to reduce operation costs," Tom Sheffield, manager, Identity and Access Management at GE, said in a statement. "Sun's identity management solution greatly reduces the time it takes to get users up and running productively, change user access privileges, and to instantly and securely revoke accounts when their relationship with our company ends."
Let us know what you think about the story; e-mail: Luke Meredith, News Writer
Dig Deeper on Scripting, Scheduling and IT Orchestration