The Ansible roadmap extends beyond Red Hat territory
Automation is a vital way to improve IT operations efficiency -- and Ansible technology in Red Hat tools helps organizations hit their strides.
The Ansible roadmap features heavy integration with major Red Hat products, but that's only part of the configuration...
Continue Reading This Article
Enjoy this article as well as all of our content, including E-Guides, news, tips and more.
management and automation technology's journey. Ansible Tower forged a new open path, and Engine joined the group.
When Red Hat acquired Ansible in 2015, users wondered about future Red Hat product directions. Its Satellite infrastructure management tool relied on Puppet, an Ansible competitor, under the hood, and Red Hat uses configuration management technology across product lines. Ansible is integrated in Red Hat Ceph storage as the default deployment mechanism, and will get a more prominent role in future versions of OpenStack as indicated by substantial community evaluation. Ansible is embedded in Red Hat's cloud management product CloudForms as well, and in the systems management service Red Hat Insights, which uses playbooks to discover system states. Ansible's role as a configuration management tool, alongside Satellite, CloudForms and Insights, is to automate IT processes and deployments.
More products are yet to come; however, the Ansible roadmap under Red Hat goes beyond buoying the vendor's existing lines. Ansible is establishing itself as an important independent product within the Red Hat portfolio.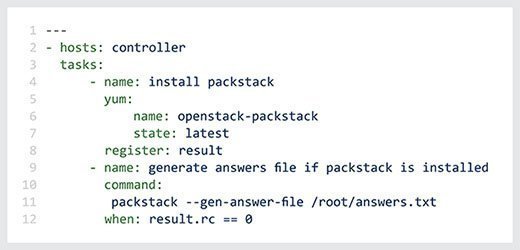 Strong directions in the Ansible roadmap
Ansible is an automation platform used to manage diverse assets in the IT landscape. The bulk of users automate Linux configurations and deployments, but Ansible also controls other assets, such as Windows desktops and network devices. It competes with Puppet, Chef and Salt, among other tools.
Ansible is establishing itself as an important independent product within the Red Hat portfolio.
Network automation is a major part of the Ansible roadmap. Another is Ansible Tower, a platform to deploy the tool at an enterprise level.
Ansible Engine and networking support. Ansible Engine is a program that supports Ansible technology, with automation capabilities so that Ansible can manage network modules, as well as servers and storage. Ansible offers various modules to connect to network devices, such as those from Arista, Cisco, Juniper and VyOS.
Ansible Tower. Ansible Tower is the platform that enables companies to work with Ansible in a scalable way, and adds better options for control, security and delegation. Tower is a central platform from which enterprise IT admins can manage devices distributed in data centers, even if the equipment is located around the world. It also serves as a centralized inventory that stores information about managed devices. That inventory underlies instance groups, which help administrators allocate capacity and resources to specific organizations.
Red Hat made Tower open source in version 3.2, resulting from the open AWX project. This brings Tower in line with Red Hat's overall supported open source technology model.
From IT to IoT
While IT automation largely focuses on the data center, there is a rapid transformation underway to an internet of things (IoT). It's not feasible to manage all connected devices one by one when they range from vehicles to appliances. The Ansible roadmap accounts for IoT, using the product's various modules.
Ansible is easy to implement, based on human-readable YAML scripts and Python as the programming language behind the scenes. Perhaps more importantly, Ansible complies to the Red Hat policy of everything open source. Third-party tools and systems easily connect to Ansible and share information, and open source community members can also build upon Ansible's code.