Network Monitoring With Nagios
Open source expert and author James Turnbull reviews SearchDataCenter.com's library entry Network Monitoring with Nagios by Taylor Dondich.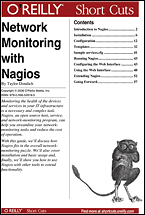 TITLE: Network Monitoring With Nagios
AUTHOR: Taylor Dondich
PUBLISHER: O'Reilly


Taylor Dondich has written an excellent summary of getting up and running with Nagios in this 56-page O'Reilly Short Cut. Available as a PDF for download or via O'Reilly's Safari online library, the Short Cut focuses on introducing a user to Nagios, installing the product, basic configuration and configuring the web console.

In addition to installation and configuration, Dondich also covers extending Nagios including briefly examining the command line NagCon and the GroundWork Open Source platform, which integrates Nagios with a number of other open source monitoring and management tools and provides a considerably more sophisticated front-end.

Overall, the Short Cut is a snappy and detailed introduction to Nagios. Good definitions of Nagios features and terminology are provided and lots of example configuration and setup steps are documented and explained.

Nagios can be a highly complex application and Dondich works well to only detail those steps required to get started and provide a suitable introduction to the application. Dondich is careful not to get bogged down in technical detail that might scare a first-time user away. The combination of the detail, length and price of this Short Cut make it good value for an administrator who wants to get started with Nagios.

About the Reviewer:
James Turnbull is a Security Architect with the National Australia Bank. He is the author of two books: Pro Nagios 2.0, about enterprise monitoring using version 2.0 of the open source tool Nagios, and Hardening Linux about operating system and application security on Linux platforms.
Dig Deeper on Real-Time Performance Monitoring and Management