olly - Fotolia
News
Stay informed about the latest enterprise technology news and product updates.
IT pros atwitter about building a DevOps culture
Exploring #DevOps on Twitter provides a window into what ops pros and developers hold above all else: building a DevOps culture and choosing from the abundance of available tools.
A jaunt on Twitter through the DevOps hashtag reveals what the development and IT operations community finds troublesome, exciting and frustrating.

Download this free guide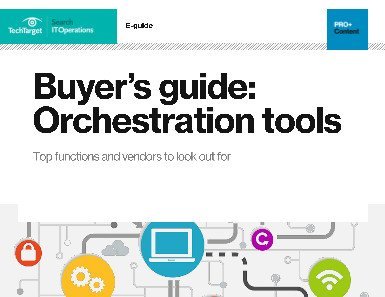 Orchestration tools: Our experts' vendor-neutral analysis
Orchestration tools are becoming increasingly popular as part of the DevOps process as they allow admins to focus on more critical tasks, rather than the routine steps it takes to move a workflow along. Our experts analyze the top solutions in the market, namely: Automic, Ayehu, BMC Control-M, CA, Cisco, IBM, Micro Focus, Microsoft, ServiceNow, and VMware.
By submitting your personal information, you agree that TechTarget and its partners may contact you regarding relevant content, products and special offers.
You also agree that your personal information may be transferred and processed in the United States, and that you have read and agree to the Terms of Use and the Privacy Policy.
Digging deep enough uncovers three major themes among the tweets of IT professionals: building a DevOps culture, picking which tool to use and welcoming bugs and failure.
Building a DevOps culture comes up frequently on forums and social media because it reflects a real issue facing businesses. The topic resonates for automation engineers like Noah Sussman, software tester Jacob Lane and even recruiters that specialize in finding DevOps talent for organizations.
Many businesses do not understand that DevOps is something the whole company, not just IT, has to embrace. The many tools available to developers and IT ops teams allow them to easily pick and choose what to use for different jobs. However, building a DevOps culture is about making sure developers and operations are able to connect and work together, whether through APIs or shared tools.
There are many myths surrounding DevOps culture and its implementation. Some companies worry that the speed of DevOps will introduce bugs into their product. That same speed that introduces bugs also allows for DevOps teams to quickly fix bugs.
It's when the CatFacts slackbot goes down that even a seasoned anthropologist will learn something about the #devops culture

— Noah Sussman (@noahsussman) February 22, 2016
#Devops the speed to succeed #ibminterconnect

— Steve Fitchett (@ScotsExcile) February 22, 2016
"No you can't restart that server ever" is the wrong answer #devops

— Chris Cowley (@chriscowleyunix) February 22, 2016
Tool diversity is great and frustrating. #devops

— Dan Johnson (@penguin_dan) February 22, 2016
If you have no failures and not introducing few defects here and there, you are not moving fast enough. Embrace challenge! - #devops #agile

— Ali Pourshahid (@ali_pourshahid) February 22, 2016
Main #DevOps frustration? Getting the board to understand that DevOps is NOT 'just an IT issue'. It's a business issue. Is this common?

— Casey Walker (@TheDigitalU) February 22, 2016
Sometimes, not always, you have to tape together a stick and a knife and improvise a crappy spear, don't get use to it! #devops #startup

— José María Ruiz (@JoMaRuiz) February 22, 2016
By 2018, 90% of organizations attempting to use #DevOps without specifically addressing their cultural foundations will fail. @Gartner

— Jacob Lane (@jacob_lane2015) February 22, 2016
Dig Deeper on Configuration Management and DevOps