Fotolia
IT performance management pegged for increase of virtualization tools
TechTarget survey results highlight the growth of IT performance management tools that provide automated feedback to problems with applications, server virtualization and the cloud.
We hear it constantly: More and more companies are moving to the cloud. But are companies really migrating away from in-house servers and VMs? And are they managing complex IT environments with the right tools?
The TechTarget Cloud and Virtualized Systems Management Survey (see infographic below) provides a snapshot of how IT professionals manage VMs and clouds. The survey asked which systems management tools IT pros had installed, and while the two are not exclusive, a far greater number of respondents have virtualization management tools than have cloud management tools. However, that's just the tip of the iceberg for IT performance management as a whole.
"There are [fewer] IT organizations using cloud services than everybody expects," said Edward Haletky, CEO and principal analyst for The Virtualization Practice LLC. There has been a large increase in shadow IT, wherein cloud services are purchased ad hoc by workers, but since IT pros are not involved with these unknown services, they aren't factored into decisions about what management tools to buy.
Many companies have just started to branch out into the cloud. MetLife Insurance, for example, started with development platforms and has moved to putting new and some existing apps in the cloud, but most of its IT operations are still in owned and hosted data centers, according to Tony Granata, assistant vice president of capacity performance & monitoring engineering at the New York-based insurer.
So if companies aren't moving to the cloud in droves, they must be sticking with servers and VMs. Seventy-three percent of respondents said they have virtualization management tools installed, and of those a combined 62% of respondents run between 100 to 5,000 or more VMs.
"If you need scale, let's say 1,000 VMs … or even 1,000 containers, you need something to manage them," Haletky said. "When you go to scale, automation is king."
The future of virtualization management tools today
While some smaller IT operations -- roughly 9% of respondents in the survey -- don't need full-blown automation tools, any bigger operation really needs an IT performance management tool, Haletky said. The 45% of respondents who rank server availability monitoring highest when buying management tools, he added, likely want automated, holistic IT performance management tools to monitor application availability, rather than simple tools that monitor single points of failure such as server availability.
"Automation is where it is at, not specific system management," Haletky said. More IT performance management tools are coming out that allow companies to automate deployment and the collection of data and use some sort of analytics on the data to check for problems on the system or to see performance of an application.
Surprising results
Twenty-four percent of respondents indicated they have installed neither virtualization nor cloud management tools. This may seem odd considering that a combined 62% of respondents run between 100 to 5,000 or more VMs, and another 24% run anywhere from 10-99 VMs, but many of those who responded "neither" may be unaware they are using management tools.
One the one hand, "they are not knowledgeable with what they are actually using because it's actually been IT as a service or hidden from them," Haletky theorized. "At the same time, there may be a bunch of people who don't even think they're using clouds or using a virtual environment."
MetLife's IT roadmap, which includes IT infrastructure management throughout servers, storage and cloud, mirrors Haletky's assertions. The company is building out converged infrastructure, putting Virtual Instruments -- an IT systems monitoring and management platform -- into VCE Vblock, and bringing a tighter coupling with application performance management tools from Dynatrace and AppDynamics, Granata said.
The company started using Virtual Instruments in early 2014, and the tools provided immediate visibility into problem areas. Within 24 hours of hooking up the tool, it found the source of slow application performance: SQL servers hadn't been refreshed to run at 8 gigabit ports on the company's updated infrastructure, and although the capacity was there for faster processing applications were not taking advantage of it.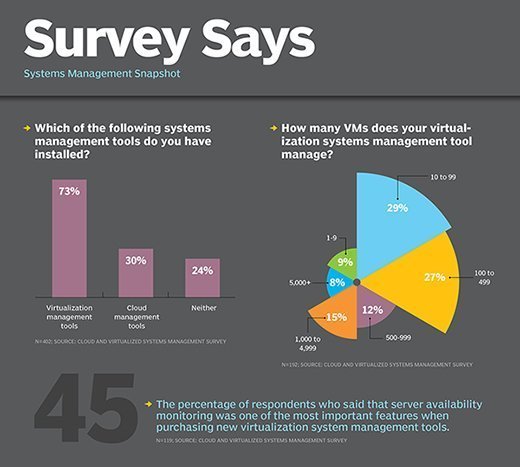 Haletky thinks the combination of physical, virtual and application visibility with automation and deeper analysis, especially behavioral analysis, are going to become table stakes for virtualization management tools.
"A management tool that cannot be used in the hybrid cloud will probably die on the vine," he said. "There will be no single-use tools in the future. They'll be multi-use: Multi-hypervisor as well as multiple clouds."
Editor's note: The TechTarget Cloud and Virtualized Systems Management Survey is a snapshot of responses to an ongoing survey of IT professionals. Respondents per question are noted in the graphic.
Senior site editor Meredith Courtemanche contributed to this article.
Next Steps
Consider this before choosing a VM or cloud management tool
Looking at the cloud? See how automation tools reach clouds
See how a company changed its IT processes with APM
Dig Deeper on Scripting, Scheduling and IT Orchestration