Photobank - Fotolia
IT operations automation adds brain and brawn to app support tools
What's an IT operations pro to do in a world where management and monitoring tools think for themselves, and self-service IT infrastructure is deployed at the push of a button?
No one can dedicate the time and critical analysis to create self-service IT infrastructure if they constantly...
Continue Reading This Article
Enjoy this article as well as all of our content, including E-Guides, news, tips and more.
weed and feed the servers.
IT operations automation, enhanced by artificial intelligence, drastically reduces an administrator's to-do list. To catch the digital transformation wave without drowning in it, IT ops professionals must implement sophisticated monitoring and management tools that enable self-service IT infrastructure, and translate bits and bytes into business value.
"If [an IT operations professional] doesn't understand that automation is a great thing, drop them like a hot stone," said Clive Longbottom, analyst at Quocirca, and TechTarget contributor.
Declarative provisioning and management tools enable IT teams to create infrastructure templates that suit app requirements and scale on demand. Templates are analogous to molds; imagine a crate built by hand for each user, versus a mold that generates new identical crates over and over again. Configuration management and automation tools are the injection molding platforms of IT infrastructure.
Once self-service IT stacks deploy, modern monitoring tools translate vast amounts of operational data into meaningful actions with the help of artificial intelligence algorithms. Tools ingest information on memory utilization, CPU latency and other aspects of operations and automatically correlate it to thresholds set by the administrator.
We empower developers to do their job as seamlessly as possible.

Nirav Shahcloud DevOps engineer, Gogo
With a goal to create self-sufficient developers, inflight internet and entertainment provider Gogo created a suite of self-service IT infrastructure templates and customized monitoring dashboards. Traditionally, the operations team spun up servers for a code deployment then adjusted the deployment over several app lifecycles, customizing portions of the build each time, said Nirav Shah, cloud DevOps engineer at Gogo.
Now, developers push their deployments to production by selecting the required instances from Gogo's Amazon Web Services-based infrastructure-as-a-service shop. Managers can revise resource requirements, perhaps adding the deployment to an AWS Auto Scaling group for future flexibility, before go-live. The live instances share utilization metrics automatically via application programming interfaces (APIs) to monitoring and analytics tools Graphite and Sumo Logic, which automatically trigger alerts in VictorOps whenever a metric exceeds a percentile threshold. VictorOps then follows a response and escalation pattern that fits the situation. Reports are generated in Graphana.
"We empower developers to do their job as seamlessly as possible," Shah said.
Without VictorOps and the rest of the monitoring suite in place, a user would have logged into each disparate system and identified patterns without seeing everything mapped out in one place. With this situational awareness, the user can see which types of alarms from various systems are likely correlated.
Wanted: IT engineers with a voice
This progress from reactive administration to IT operations automation requires a firm grasp of what to monitor and why, said Kenneth Gonzalez, research director at Gartner. He advocates for IT teams to build a monitoring and management strategy empirically, rather than creating a theoretical list based on IT objectives.
There's a myth of IT or the business, Gonzalez said -- but in reality, there is only the business. Therefore, everyone in IT should explicitly think and speak about the business value of every IT effort.
"Each change that impacts the user base should have thought and planning behind it," agreed Adam Fowler, IT operations manager for a law firm in Australia, and TechTarget contributor.
Many IT professionals don't know how to effectively communicate with business people, Gonzalez said. But when asked what doesn't work, they have a lot of answers. Chances are they've relayed all the low-level grungy details on applications and infrastructure that people outside of IT don't care about, and that IT provisioning and operations automation technologies abstract from outside view, he said.
Instead, Gonzalez suggests correlating IT performance to business objectives. What are the core business values that support the corporate mission, such as cost reduction or risk mitigation? Consider how an IT service supports these values, then decipher which specific metrics to track to ensure that service meets business needs. That is a business-driven IT support promise that monitoring and management tools can enforce.
This exercise lets IT operations engineers speak a common language with business professionals. For example, at an aerospace company Gonzalez coached, IT operations reviewed a business impact analysis report with the business continuity team, leading IT to reshape its disaster recovery plan. The IT team realized that they didn't need to discuss how to get a ton of apps and services back up and running -- they needed to know which ones matter the most.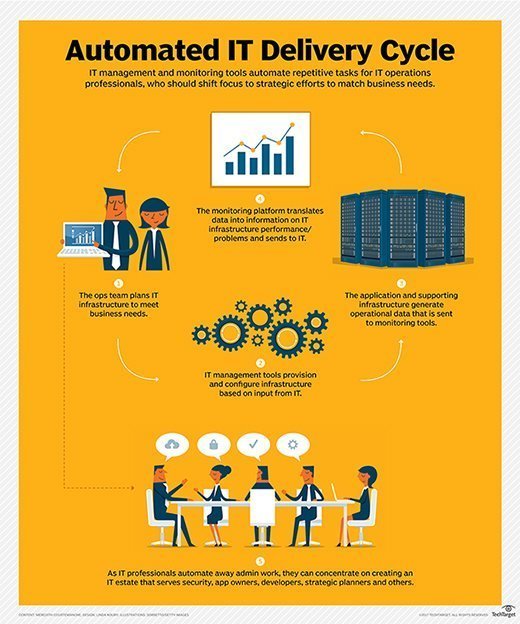 The fearsome advance of AI
Mix automation and intelligence into provisioning, monitoring and support, and IT technicians might question what role they have in the enterprise. IT ops professionals should understand how to put power into the hands of developers, follow the lead set by the business, and run the show at the same time.
With IT operations automation and API-based monitoring in place, Shah's job at Gogo is to improve dashboards to meet specific groups' needs, derive data-driven monitoring metrics, and create fault tolerance for the infrastructure. Shah uses VictorOps to customize dashboards and alerts for the needs of developers, operations engineers and management -- covering granular memory utilization in a piece of app code, performance on a self-service infrastructure stack, and historical data on the number of off-hours alerts a team dealt with in the last week, for example.
Automated and intelligent self-service IT platforms do reduce the number of IT professionals an organization needs, which can leave employees and managers concerned about job security and influence.
"One of the last things I did as an admin working on infrastructure was automate myself out of a job," said Chris Gardner, an analyst at Forrester who previously managed infrastructure at New York Life and other firms. Weeks of work were reduced to minutes, then seconds, by an intelligent disaster recovery tool. But that didn't eliminate the value Gardner brought to the organization, he said -- his role changed to focus on the IT operations model and strategy.
Not everyone will make that transition, Gardner acknowledged, but it's no use hanging on to manual, time-intensive processes in the name of job security. Businesses can always look elsewhere for self-service IT. Cloud services apply automation to every possible aspect of the IT platform at utility scale. Infrastructure as a service meets custom app needs, and software as a service replaces most commodity functions.
IT executives today seek to eliminate the need to hire another IT operations person, said Kurt Marko, analyst at MarkoInsights, and a TechTarget contributor. Instead, as Gardner's experience demonstrated, executives repurpose existing positions to focus on IT service development to assist line of business operations and/or product development.
Luddites that eschew IT operations automation want to maintain power but don't see the writing on the wall, Longbottom said. Operations staff that sees a future in IT will relegate repetitive ops to cloud services and provide value in how they manage app deployment and support.
Meredith Courtemanche is a senior site editor in TechTarget's Data Center and Virtualization group, with sites including SearchITOperations, SearchWindowsServer and SearchExchange. Find her work @DataCenterTT or email her at [email protected].
Dig Deeper on Scripting, Scheduling and IT Orchestration