Brian Jackson - Fotolia
News
Stay informed about the latest enterprise technology news and product updates.
Enterprise IT weighs pros and cons of multi-cloud management
IT ops pros are getting used to multi-cloud management, especially for disaster recovery, but moving from cloud to cloud via container portability is still rare.
Multi-cloud management among enterprise IT shops is real, but the vision of routine container portability between clouds has yet to be realized for most.
Multi-cloud management is more common as enterprises embrace public clouds and deploy standardized infrastructure automation platforms, such as Kubernetes, within them. Most commonly, IT teams look to multi-cloud deployments for workload resiliency and disaster recovery, or as the most reasonable approach to combining companies with loyalty to different public cloud vendors through acquisition.
"Customers absolutely want and need multi-cloud, but it's not the old naïve idea about porting stuff to arbitrage a few pennies in spot instance pricing," said Charles Betz, analyst at Forrester Research. "It's typically driven more by governance and regulatory compliance concerns, and pragmatic considerations around mergers and acquisitions."
IT vendors have responded to this trend with a barrage of marketing around tools that can be used to deploy and manage workloads across multiple clouds. Most notably, IBM's $34 billion bet on Red Hat revolves around multi-cloud management as a core business strategy for the combined companies, and Red Hat's OpenShift Container Platform version 4.2 updated its Kubernetes cluster installer to support more clouds, including Azure and Google Cloud Platform. VMware and Rancher also use Kubernetes to anchor multi-cloud management strategies, and even cloud providers such as Google offer products such as Anthos with the goal of managing workloads across multiple clouds.
For some IT shops, easier multi-cloud management is a key factor in Kubernetes platform purchasing decisions.
"Every cloud provider has hosted Kubernetes, but we went with Rancher because we want to stay cloud-agnostic," said David Sanftenberg, DevOps engineer at Cardano Risk Management Ltd, an investment consultancy firm in the U.K. "Cloud outages are rare, but it's nice to know that on a whim we can spin up a cluster in another cloud."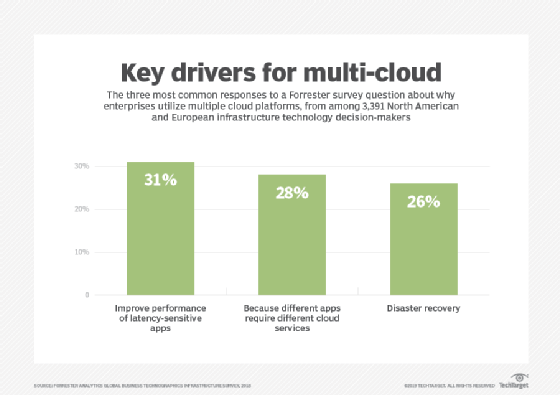 Multi-cloud management requires a deliberate approach
With Kubernetes and VMware virtual machines as common infrastructure templates, some companies use multiple cloud providers to meet specific business requirements.
Unified communications-as-a-service provider 8x8, in San Jose, Calif., maintains IT environments spread across 15 self-managed data centers, plus AWS, Google Cloud Platform, Tencent and Alibaba clouds. Since the company's business is based on connecting clients through voice and video chat globally, placing workloads as close to customers' locations as possible is imperative, and this makes managing multiple cloud service providers worthwhile. The company's IT ops team keeps an eye on all its workloads with VMware's Wavefront cloud monitoring tool.
"It's all the same [infrastructure] templates, and all the monitoring and dashboards stay exactly the same, and it doesn't really matter where [resources] are deployed," said Dejan Deklich, chief product officer at 8x8. "Engineers don't have to care where workloads are."
Multiple times a year, Deklich estimated, the company uses container portability to move workloads between clouds when it gets a good deal on infrastructure costs, although it doesn't move them in real time or spread apps among multiple clouds. Multi-cloud migration also only applies to a select number of 8x8's workloads, Deklich said.
We made a conscious decision that we want to be able to move from cloud to cloud. It depends on how deep you go into integration with a given cloud provider.

Dejan DeklichChief product officer, 8x8
"If you're in [AWS] and using RDS, you're not going to be able to move to Oracle Cloud, or you're going to suffer connectivity issues; you can make it work, but why would you?" he said. "There are workloads that can elegantly be moved, such as real-time voice or video distribution around the world, or analytics, as long as you have data associated with your processing, but moving large databases around is not a good idea."
Maintaining multi-cloud portability also requires a deliberate approach to integration with each cloud provider.
"We made a conscious decision that we want to be able to move from cloud to cloud," Deklich said. "It depends on how deep you go into integration with a given cloud provider -- moving a container from one to the other is no problem if the application inside is not dependent on a cloud-specific infrastructure."
The 'lowest common denominator' downside of multi-cloud
Not every organization buys in to the idea that multi-cloud management's promise of freedom from cloud lock-in is worthwhile, and the use of container portability to move apps from cloud to cloud remains rare, according to analysts.
"Generally speaking, companies care about portability from on-premises environments to public cloud, not wanting to get locked into their data center choices," said Lauren Nelson, analyst at Forrester Research. "They are far less cautious when it comes to getting locked into public cloud services, especially if that lock in comes with great value."
Generally speaking, companies care about portability from on-premises environments to public cloud, not wanting to get locked into their data center choices. They are far less cautious when it comes to getting locked into public cloud services ...

Lauren NelsonAnalyst, Forrester Research
In fact, some IT pros argue that lock-in is preferable to missing out on the value of cloud-specific secondary services, such as AWS Lambda.
"I am staunchly single cloud," said Robert Alcorn, chief architect of platform and product operations at Education Advisory Board (EAB), a higher education research firm headquartered in Washington, D.C. "If you look at how AWS has accelerated its development over the last year or so, it makes multi-cloud almost a nonsensical question."
For Alcorn, the value of integrating EAB's GitLab pipelines with AWS Lambda outweighs the risk of lock-in to the AWS cloud. Connecting AWS Lambda and API Gateway to Amazon's SageMaker for machine learning has also represented almost a thousandfold drop in costs compared to the company's previous container-based hosting platform, he said.
Even without the company's interest in Lambda integration, the work required to keep applications fully cloud-neutral isn't worth it for his company, Alcorn said.
"There's a ceiling to what you can do in a truly agnostic way," he said. "Hosted cloud services like ECS and EKS are also an order of magnitude simpler to manage. I don't want to pay the overhead tax to be cloud-neutral."
Some IT analysts also sound a note of caution about the value of multi-cloud management for disaster recovery or price negotiations with cloud vendors, depending on the organization. For example, some financial regulators require multi-cloud deployments for risk mitigation, but the worst case scenario of a complete cloud failure or the closure of a cloud provider's entire business is highly unlikely, Forrester's Nelson wrote in a March 2019 research report, "Assess the Pain-Gain Tradeoff of Multicloud Strategies."
Splitting cloud deployments between multiple providers also may not give enterprises as much of a leg up in price negotiations as they expect, unless the customer is a very large organization, Nelson wrote in the report.
The risks of multi-cloud management are also manifold, according to Nelson's report, from high costs for data ingress and egress between clouds to network latency and bandwidth issues, broader skills requirements for IT teams, and potentially double the resource costs to keep a second cloud deployment on standby for disaster recovery.
Of course, value is in the eye of the beholder, and each organization's multi-cloud mileage may vary.
"I'd rather spend more for the company to be up and running, and not lose my job," Cardano's Sanftenberg said.