Evaluate
Weigh the pros and cons of technologies, products and projects you are considering.
Use these DevOps examples to reimagine an IT organization
Changes have to occur in IT operations, infrastructure and team structure to enable DevOps. Despite the relative youth of DevOps as an IT strategy, diverse companies have walked the walk, and now eagerly talk the talk.
Introduction
DevOps means something different to every organization in terms of culture, best practices and tool pipelines. And that's a good thing.
"Now, we have a lot of enterprises [to provide DevOps examples]. We don't only want to rely on what works for the unicorns," said Patrick Debois, co-author of The DevOps Handbook, a guidebook for DevOps implementation. The balancing act for DevOps best practices, tool recommendations and other advice is to make it broad enough for diverse IT teams to apply it successfully, not just companies with deep Agile and IT technical expertise paired with vast resources and flexible roadmaps. According to The DevOps Handbook co-author Gene Kim, enterprise IT shops are more like horses than the unique early DevOps adopter unicorns.
For teams unsure of where to start -- or those that have plateaued without a clear path to more improvements -- these before and after DevOps examples from real IT organizations yield insights into processes used, metrics for success and common mistakes and delays.
1

How they did it

-
Successes and struggles of DevOps transformations
These real-world DevOps examples from IT and software development professionals are gritty, not idealistic. Enterprises carry legacy IT baggage, have compliance obligations that push apart collaborative efforts and have learning periods for new technologies that must account for time spent actually running existing applications and infrastructure with today's tool set.
2

Put ideas into motion

-
Creating a CI/CD and agile infrastructure
While DevOps examples vary from company to company, there are some key tenets and practices that all organizations use as a common basis for implementation. Continuous delivery, configuration management and automation are the go-to choices, while immutable infrastructure and NoOps push the possibilities for organizations that are ready for radical infrastructure change.

Download this free guide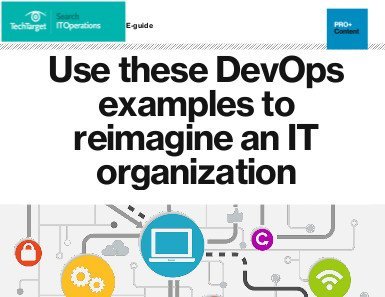 Download: The Complete 140-page Guide to DevOps Adoption and Management
Download the PDF version of this essential guide "Use these DevOps examples to reimagine an IT organization"
3

Feedback loops

-
Monitoring in a DevOps environment
Much like the Japanese concept of kaizen, DevOps promotes a culture of nonstop change and improvement. Iterative development, proven code and smooth deployment get the application to production, while monitoring provides feedback that will direct further development and infrastructure improvements.
4

Put it all together

-
How to create a DevOps team bond
DevOps implementation doesn't happen overnight, and it also doesn't have to happen in the dark. Whether through articles, blogs and books; formal training and certifications; or peer-to-peer sharing, DevOps professionals can learn what their roles entail and how to work together.