 BACKGROUND IMAGE: iSTOCK/GETTY IMAGES
Tools for IT shops seeking full-stack control and unified operations
Editor's note
IT maturity varies from organization to organization and from team to team. The best tools for IT won't be the same when you progress from firefighting and chasing business needs to a higher level of management or process maturity that relies on predictive maintenance and task automation.
Reactive IT organizations use tools to respond to issues that end users bring to their attention. If your IT team is at this lowest level of process maturity, you know it requires a significant investment of time and effort to track down and solve problems in the network, application, servers or elsewhere. Monitoring information is not continuously available, either from application or infrastructure performance monitoring (APM or IPM) tools.
This model leaves plenty of room for improvement. If you're starting with basic management and troubleshooting tools for IT tasks, implement a better service desk and response system to help IT resolve user-reported issues faster. Monitoring tools, as mentioned above, potentially alert IT to problems before they affect users. For example, server logs fed into a log monitoring tool will catch high CPU utilization, letting the IT team respond with load balancing or another solution before tickets roll in about an application that's timing out.
Tools for IT management are needed to improve the daily task list. These can automate repetitive tasks, which saves time and, more importantly, standardizes work to avoid unexpected differences in IT configurations. IT automation tools range from basic command-line interfaces for scripts to sophisticated implementations that track and maintain a desired state.
At the highest level of IT maturity, the IT organization works in concert with its users. User requests are automatically implemented via an operations orchestrator. Various monitoring tools integrate together to provide short- and long-term forecasts as well as immediate alerts. IT management moves from responsive to predictive. It's a goal that few IT shops will completely accomplish; nevertheless, with a suite of tools for IT monitoring, management and automation, shops can confidently set service-level agreements with users and performance metrics for staff.
1

Manage IT better, faster and smarter

An IT administrator or engineer is only as good as the tools in her arsenal. Ensure you're using the best technologies to enable DevOps, automation, scalable resources and incident response.
2

Monitoring keeps IT's eyes on the prize

You can't discover or prevent issues without good monitoring. Too often, IT monitoring is a patchwork of tools, each brought in to watch over one piece of the IT estate or one layer in the application stack.

Download this free guide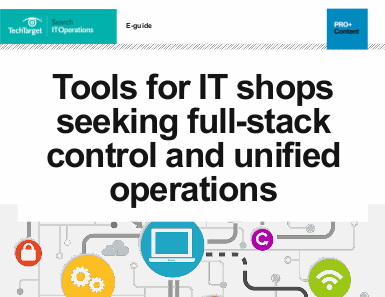 Tools for IT Shops Seeking Full-Stack Control and Unified Operations
IT shops that want to improve monitoring, management and process control should overhaul their -- probably long -- list of tools.
3

Categorizing IT tools

Knowing the right terms to assess IT and management models will enable a group to communicate tool requirements effectively.
4

Tools are one thing; a toolchain is another

Tools for IT serve a given purpose and cover a given area. When you integrate these individual tools into an interactive monitoring and management command center, the value is more than the sum of its parts.