Evaluate
Weigh the pros and cons of technologies, products and projects you are considering.
The steps in selecting the right configuration management system
Configuration management is essential for modern IT infrastructures. Choosing the right tool for your company is even more so. Determine what you need from a configuration management tool and how to select the best one.
Introduction
Modern IT infrastructures are growing increasingly complex and multifaceted. IT administrators face a difficult task to keep track of all the components that make up a system, and the state they are in. The relatively static platforms of the past are now obsolete. The size and industry that the enterprise is based in makes no difference -- all companies will unilaterally benefit from a solid configuration management system.
Configuration management can be summarized as the detailed creation, recording and updating of information about an enterprise's hardware and software, which enables organizations to successfully provision new code and application packages and manage them throughout the lifecycle. Configuration management lets administrators keep tabs on their hardware and software and ensure that all activity is functioning as it should.
What makes an effective configuration management system will vary according to certain company factors: size, platforms, budget and IT capabilities available. With a broad range of options on the market, buyers must analyze what their organization requires and narrow down which of the many CM tool offerings will provide the most benefit. Different CM tools support different platforms, so certain tools will appeal to organizations with a heterogeneous IT platform while others are suitable for those using a homogenous deployment. Companies do not want to invest in CM tools designed for a particular platform if their environment uses many. Organizations also have the option of open source versus enterprise versions of many tools. Carefully consider the coding ability available within the organization when deciding on a system.
Equipped with the knowledge in this guide provided by expert Clive Longbottom, IT administrators can select the proper configuration management software that will keep their infrastructures on track and well-positioned to keep up with rapid technology.
1

What is it?

-
How configuration management works and its role in modern IT systems
Learn about the configuration management process and how it can enable organizations to grow and keep up with the modern age.
Feature
Expert Clive Longbottom breaks down the configuration management system and why it has become so essential for organizations seeking to grow. Continue Reading
2

Do I need?

-
The benefits and necessity of a strong configuration management system
Good configuration management tools can help organizations maintain and improve their IT systems. Read more about this essential process here.
Feature
All organizations can benefit from configuration management. Expert Clive Longbottom explains just how these tools can help your organization keep up and stay ahead. Continue Reading

Download this free guide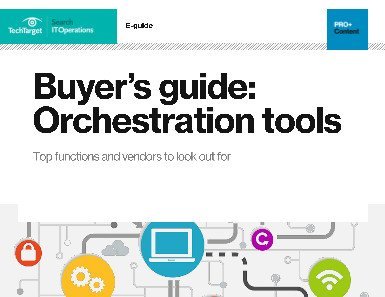 Orchestration tools: Our experts' vendor-neutral analysis
Orchestration tools are becoming increasingly popular as part of the DevOps process as they allow admins to focus on more critical tasks, rather than the routine steps it takes to move a workflow along. Our experts analyze the top solutions in the market, namely: Automic, Ayehu, BMC Control-M, CA, Cisco, IBM, Micro Focus, Microsoft, ServiceNow, and VMware.
3

How to buy

-
The necessary details to select configuration management software
With many options out there, learn what characteristics buyers must look for in configuration management software to make the best purchase for their enterprise.
Feature
Selecting the right configuration management software is vital for your company to function well in this modern age. Learn what you need to know in order to select the best tool. Continue Reading
4

Which should I buy?

-
Choosing the most effective configuration management tool
There are a number of configuration management tools available. Find out how the top products stack up against one another and which will best suit your enterprise.
Feature
What characterizes the best configuration management tools for your company? Read about the different tools available and which ones would address your company needs the best. Continue Reading
5

Top product overviews

-
In-depth looks at the top configuration management software
Now that you know what you need, and which features to look for in configuration management software, take a look at these product overviews which provide an in-depth look at configuration management tools and products.