Get started
Bring yourself up to speed with our introductory content.
Primer on DevOps roles and responsibilities
DevOps planning in enterprises revolves around getting the right teams in place, the necessary skills tuned up and the proper tools to make it all come together.
Introduction
DevOps means running IT operations with software development principals. Or it means heterogeneous groups holistically run IT applications. Or it means rapidly deploying Agile application updates on elastic cloud resources.
With such a malleable and nascent concept, there's no wonder IT organizations have trouble sorting out DevOps roles and responsibilities. What most adopters can agree on is that DevOps roles require different skills than siloed traditional IT jobs. And shared responsibilities across development, security, operations and other functional require enhanced communication and shared information from the whole stack.
This guide covers how to establish, embrace and enhance DevOps roles and responsibilities in enterprise IT shops. Not sure your company will ever get there? Scroll to the bottom for practice interview questions that will land you a job with forward-thinking SysOps teams and DevOps shops.
1

DevOps tips

-
How to get DevOps off the planning board
This set of four articles covers the difficulties for -- and lessons learned at -- IT organizations, from the basics of what DevOps means and why it's important to their company, through the changes that IT ops pros must make to fulfill a DevOps role. While cutting-edge digital and emerging technology companies have a longer track record with DevOps, IT pros at large enterprises and government organizations have plenty to say about infrastructure as code, shared dashboards, DevOps mindsets and more.
2

The scoop on DevOps

-
Meet the reporter
Beth Pariseau covers DevOps, IT operations and the changes wrought by distributed applications and iterative development for SearchITOperations. She wrote this four-part series on DevOps roles and responsibilities in enterprises to showcase the struggle of applied DevOps. Want to learn more about Beth Pariseau? Click the link to her contributor profile to learn about her background and read other articles she's written.
Senior News Writer

SearchITOperations

Download this free guide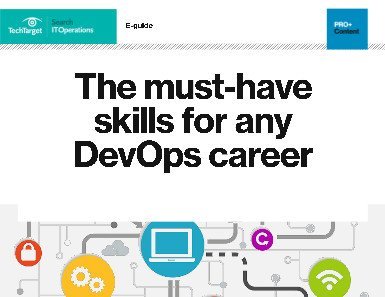 PDF: The DevOps career skills you need
IT as a whole is making a noticeable shift towards a DevOps culture. So what do skills do you need to keep yourself relevant in this new environment?
3

Speak the language

-
Create a multilingual DevOps team
Filling the IT operations role on a DevOps team means communicating with developers, database administrators, test specialists, line of business stakeholders and more positions. You need the vocabulary to match.
4

Know the field to get the job

-
Get hired onto a DevOps team
IT operations pros who have developed skills, techniques and a depth of knowledge around DevOps are in demand. The more you can describe and demonstrate prowess with DevOps roles and responsibilities in real-life implementations, the more inclined progressive, IT-enabled companies will be to add you to their teams.
Tip
IT ops, app management and Web ops roles require end-to-end IT capabilities and an ability to track interdependencies and troubleshoot challenging applications. A great IT operations pro should adapt easily to the DevOps roles and responsibilities laid out in the preceding series. Continue Reading
Tip
DevOps is a concept, methodology, approach -- and increasingly, a job. Enterprises, IT firms and other hiring companies use DevOps as shorthand in job listings for the kind of IT shop they're shaping and the kind of skills they want. Here's what to expect in the interview. Continue Reading