 BACKGROUND IMAGE: iSTOCK/GETTY IMAGES
Linux, Windows Server coexist with cross-skilled management and support
Editor's note
New developments of interoperability prepare server admins to better handle a mix of Linux, Windows Server. Using Windows Server management on PowerShell should feel familiar to Linux admins versed in command lines, and Bash has arrived on Windows.
For Microsoft shops that add Linux server support into the mix, a good working knowledge of PowerShell will ease the burden. PowerShell can now directly control Linux servers. And experts have advice to share on the best Linux OSes to suit enterprise needs.
Containerization is spreading across OSes too, as native Windows and Mac versions join Linux containers in enterprises, and abstraction technologies make it feasible to run Linux containers on Windows Server. The various and rapidly maturing OS options for containers ensure an admin's job is never boring.
1

Linux lovers can learn Windows Server management

This might be the best time in Microsoft's history for Linux admins to take on Windows Server management and support tasks. PowerShell, Microsoft's command-line interface, is over a decade old and shows maturity for script execution. Configuration management tools enable administrators to customize less and automate more.
2

Windows experts can pick up Linux server support

A requisite IT tool only runs on Linux. To save costs, the business can run some workloads on licensed Windows Server and others on free Linux OSes. A pilot containerization project uses Linux as the host OS for lower overhead. Whatever the reason, Linux server management is now the Windows Server admin's job.

Download this free guide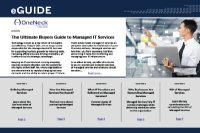 Download Now: Managed IT Services Buyer's Guide
In this 20-page e-book, you'll get your hands on an in-depth overview of managed IT services, and 8 key considerations to help shape your organization's purchasing decisions.
3

Get help to run Linux, Windows Server on cloud

Public cloud is changing, as Microsoft Azure gains momentum in enterprise IT shops. While Windows-based workloads become more prevalent in public cloud, cloud operations teams still must maintain core Linux skills to work with popular platforms from Amazon, Google and Microsoft. Here's a window into the world of public cloud for a busy cloud ops team.