Get started
Bring yourself up to speed with our introductory content.
An initiation into infrastructure automation tools and methods
Systems administrators can fill their days with version control, application testing and roll outs, server patches and configuration changes. Or, they can invest in infrastructure automation tools.
Introduction
Infrastructure automation tools and processes save systems administrators and IT managers time on rote tasks and remove chances for human error during IT configuration, patch management and performance tracking.
Automation without proper forethought, training and support, however, only makes a small mess bigger, and can do so quickly. And enterprise IT organizations rarely start fresh with no legacy code, programs, tool sets or infrastructure. These tips and examples show how to use workflow orchestration, automated alerts, configuration management tools and more to successfully automate the IT infrastructure.
1

Script everything

-
Fully exploit IT automation
The path to a modernized IT Ops team starts by targeting the right areas for orchestration and workflow automation, then learning to think in automation terms: If we do this task more than once, is it easier to automate? Infrastructure automation can also set an IT organization on the path to cloud, whether that is a private cloud in the data center, test and dev in a public cloud, cloud-hosted infrastructure, or a mix of options.
2

Standardize or perish

-
Tools for configuration, change management
IT automation must start with strategy and a deep understanding of process, which will inform tool choices. Modern organizations are taking advantage of configuration management tools to automate infrastructure updates and scaling. Pair configuration management and infrastructure automation tools with a solid change management system, and your systems administrators might get an entire holiday off without worrying about alert calls.

Download this free guide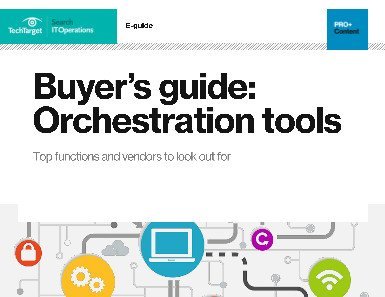 Orchestration tools: Our experts' vendor-neutral analysis
Orchestration tools are becoming increasingly popular as part of the DevOps process as they allow admins to focus on more critical tasks, rather than the routine steps it takes to move a workflow along. Our experts analyze the top solutions in the market, namely: Automic, Ayehu, BMC Control-M, CA, Cisco, IBM, Micro Focus, Microsoft, ServiceNow, and VMware.
3

Instant stability

-
Manage and monitor IT environments
Stability, security and efficiency are the hallmarks of enterprise IT production environments. Increased agility and automation continue from the development and deployment phases into production, with infrastructure monitoring tools and ops-centric automation.