Evaluate
Weigh the pros and cons of technologies, products and projects you are considering.
AI in IT tools promises better, faster, stronger ops
Process automation, machine learning and AI in IT can revolutionize operations. The new batch of smart IT operations tools prove AI isn't going away, and fighting it is an organizational death wish.
Introduction
Artificial intelligence has spread into business applications and home use tools -- Siri and Alexa can confirm. Within the enterprise, machine learning and AI in IT operations have changed the playing field. Tools such as Hadoop put machine learning into the hands of the average engineer, allowing more organizations to manipulate more data. These tools lead to springboard improvements in processing speed, analytics, insights or security, and the organizations that use these AI-enabled products benefit from increased staff productivity.
Science fiction has prepared the world for autonomous, opinionated robots, but that level of AI is still not even on the horizon. AI in IT operations will cultivate new jobs and give organizations better analytics and smarter security for IT infrastructure and its data -- and probably help run the servers that host the next science fiction movie predicting the downfall of humanity.
1

AI enhances IT ops tools

-
The kid in all the clubs
Renewed interest in AI in IT tools has flung open doors of opportunity for improvements in efficiency, accuracy, analysis and security -- not to mention time consumption. IT operations staff can find AI and machine-learning functions in tools from IT service management (ITSM) to log management and from network security to cloud management.
2

Maintain AI practicality

-
Not every organization can play
AI-powered tools in IT ops can save systems administrators and security specialists from countless hours of rote work. With smart software covering the bases, ops pros can spend their time and energy on the tasks that require nuanced judgment. And because AI tools process volumes of data more efficiently than humans, those ops pros can make better decisions, yielding better results.
Opinion
Big data seems to surround IT, weaving through every category of products like dog hair in a blanket. Organizations that don't have access to big data now risk finding themselves without enough input for machine learning to process later. Continue Reading
Feature
AI started out in business apps, but there are clear signs that it will make a splash in IT ops productivity, as evidenced in IPcenter from IPsoft and other tools. Continue Reading
Feature
The more of IT operations that pros can automate, the more productive the department gets and the more interesting the job can be. Eliminate the tedious manual processes from day-to-day activity with smart automation tools and find better things to do. Continue Reading

Download this free guide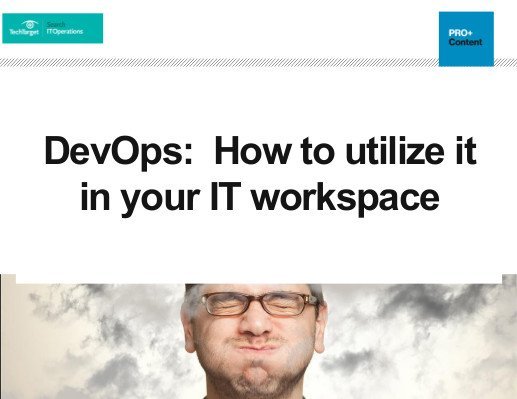 PDF: Are you migrating to DevOps?
As DevOps is slowly taking over the IT landscape, its vital that IT pros understand it before jumping right into the movement. In this complimentary guide, discover an expert breakdown of how DevOps impacts day-to-day operations management in modern IT environments.
3

So many terms, so little time

-
Language processing is natural
Data scientists have taught computers how to process natural language to learn what people are saying. If you, a human, need help understanding these smart computers, here is a handy glossary of terms for AI in IT operations.
4

IT's future is automated

-
Don't expect any autonomous robo-admins
Sys admins can anticipate seeing AI in IT operations for the foreseeable future. Improved analytics and processing speed necessitate its use -- and bring up new career options.