Definition
IT systems management
Systems management is the administration of the information technology systems in an enterprise data center. An effective systems management plan facilitates the delivery of IT as a service (ITaaS) and allows the organization's employees to respond to changing business requirements in an agile manner. In a hybrid IT environment, this involves overseeing the design and day-to-day operations of the data center, as well as the integration of third-party cloud services.
IT systems management is usually overseen by the chief information officer (CIO) or chief technology officer (CTO). The department that is responsible for architecting and managing the systems is sometimes known as management information systems (MIS), information systems (IS) or IT infrastructure and operations. Tasks for these teams include gathering system requirements; purchasing equipment and software, as well as distributing it, configuring it and maintaining it with enhancement and service updates; setting up problem handling processes; provisioning services; and monitoring IT systems performance and determining whether objectives are being met. The Information Technology Infrastructure Library (ITIL) provides a best practices guide for operations and systems management in the data center and cloud.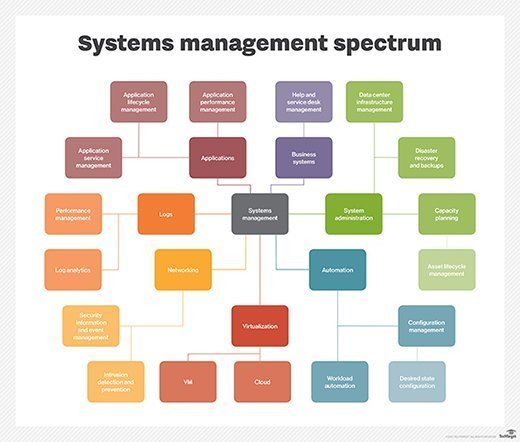 Subsystems of IT systems management include:
Application lifecycle management: The supervision of a software application from its initial planning through retirement. ALM also involves documenting and tracking changes to an application, as well as user experience and application monitoring and troubleshooting.
Asset lifecycle management: The planning, procurement, deployment, usage, upgrade, decommissioning, disposition and salvage of hardware and software. IT asset management covers licensing for software from hypervisors to business applications.
Automation management: The use of controls to supervise and carry out every day IT management functions.
capacity planning management: Estimating the data center floor space, cooling, hardware, software and connection infrastructure resources, as well as cloud computing resources that will be needed over some future period of time.
Change management: A systematic approach to dealing with change from the perspective of both the organization and the individual.
Cloud lifecycle management: The exercise of administrative control over public, private and hybrid clouds.
Compliance management: Ensures that organizations are abiding by both industry regulations and government legislation as determined by the organization's compliance framework.
Defining IT systems management
Technology expert Stephen J. Bigelow explains the basics of IT systems management, and what it can do for a business.
Configuration management: The detailed recording and updating of information that describes an enterprise's hardware and software.
Cost management: Planning and controlling impending IT expenditures to help reduce the chance of going over budget.
Data management: Creating and managing the systematic way that data within the organization is created, retrieved, updated and stored. This can also include data backup and disaster recovery.
Data center infrastructure management: Combines data center systems management with building and energy management.
Help desk management: Reporting and tracking problems, as well as resolutions to those same problems.
IT service management: The creation and management of a strategic approach to designing, delivering, managing and improving the way IT is used internally so that the organization can meet its business goals.
Network management: The administration of both wired and wireless networks. The FCAPS (fault, configuration, accounting, performance and security) framework for network monitoring and management as well as ITIL best practices are popular administrative tools for this subsystem.
Performance management: The supervision of an organization's IT infrastructure to ensure that key performance indicators (KPIs), service levels and budgets are in compliance with the organization's goals.
Modern IT systems management tasks
Stephen J. Bigelow, technology expert at TechTarget, highlights the modern capabilities of IT systems management tools.
Security information and event management: A holistic view of an organization's IT security. SIEM combines security information management (SIM) and security event management (SEM) functions into one security management system.
Server management: The consolidation and management of servers in a homogeneous or heterogeneous environment. Also involves the supervision of patch management, efficiency, power usage and performance, as well as predictive maintenance.
Storage management: The establishment and management of procedures, services and standards for managing storage infrastructure and third-party cloud storage services.
Virtualization management: The provisioning and management of a virtual infrastructure, including virtual machines, containers and virtual desktop infrastructure (VDI). Also involves monitoring and correcting performance problems that are unique to virtualization.
This was last updated in
October 2016
Continue Reading About IT systems management
Dig Deeper on Scripting, Scheduling and IT Orchestration