Definition
MIPS (million instructions per second)
The number of MIPS (million instructions per second) is a general measure of computing performance and, by implication, the amount of work a larger computer can do. For large servers or mainframes, MIPS is a way to measure the cost of computing: the more MIPS delivered for the money, the better the value. Historically, the cost of computing measured in the number of MIPS has been reduced by half on an annual basis for a number of years.

Download this free guide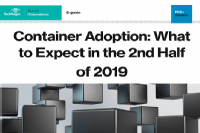 Container Adoption: What to Expect in the 2nd Half of 2019
Let our expert guide assist you along your journey to using containers. Explore pros and cons, how container ecosystems will continue to develop this year, and 10 essential tips on containers and Kubernetes to bookmark.
The number of MIPS attributed to a computer is usually determined by one or more benchmark runs.
Dig Deeper on Configuration Management and DevOps