Definition
ITSM (IT Service Management)
IT Service Management is a general term that describes a strategic approach for designing, delivering, managing and improving the way information technology (IT) is used within an organization. The goal of every IT Service Management framework is to ensure that the right processes, people and technology are in place so that the organization can meet its business goals.

Download this free guide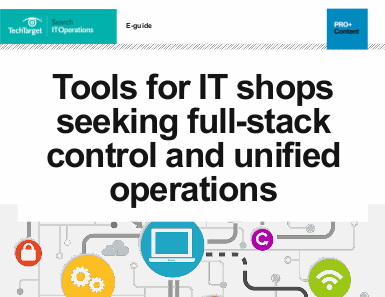 Tools for IT Shops Seeking Full-Stack Control and Unified Operations
IT shops that want to improve monitoring, management and process control should overhaul their -- probably long -- list of tools.
Popular ITSM frameworks include:
COBIT - a framework for developing, implementing, monitoring and improving information technology (IT) governance and management practices. The COBIT framework is published by the IT Governance Institute and the Information Systems Audit and Control Association (ISACA).
Microsoft Operations Framework - a series of 23 documents that guide IT professionals through the processes of creating, implementing and managing efficient and cost-effective services. Like ITIL, MOF includes guidelines for the entire lifecycle of an IT service, from concept to retirement or replacement.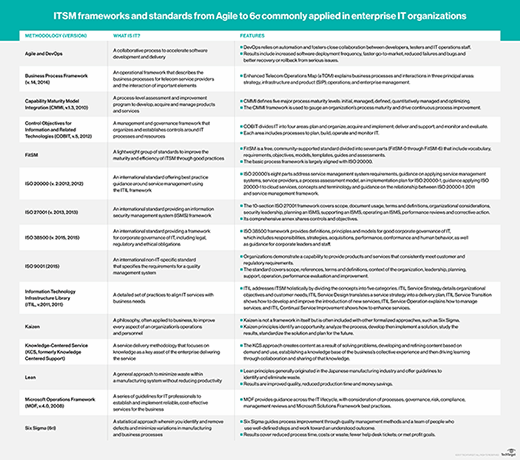 Six Sigma - a management framework developed by Motorola. The framework emphasizes setting extremely high objectives, collecting data, and analyzing results to a fine degree as a way to reduce defects in products and services.
ISO 20000 - a global standard that describes the requirements for an ITSM system. Although the standard was developed by developed by the British Standards Institutions to mirror best practices described within the ITIL framework, it also supports other frameworks, such as Microsoft's Operations Framework.
TOGAF (The Open Group Architecture Framework) - provides a structured approach for organizations seeking to organize and govern their implementation of technology, particularly software technology.
TOGAF was created and is maintained by The Open Group, an independent industry association.
ITIL (Information Technology Infrastructure Library) - a framework that provides best practices for aligning IT with business needs. The most widely used framework for IT process management is ITIL v3, which has five parts: Strategy, Design, Transition, Operations and Continual Service Improvement. Ongoing development for ITIL has been vested in Axelos, a joint-venture company created by the U.K. Cabinet Office and Capita PLC. As of this writing, the most widely used framework for ITSM is ITIL v3. ITIL was created because there was a need for ITSM best practice in the late 1980's and it has since become the de facto framework used by many organizations across the world. The framework has five parts: Strategy, Design, Transition, Operations and Continual Service Improvement.
Continue Reading About ITSM (IT Service Management)