Definition
IT/OT convergence
IT/OT convergence is the integration of information technology (IT) systems used for data-centric computing with operational technology (OT) systems used to monitor events, processes and devices and make adjustments in enterprise and industrial operations.
Content Continues Below

Download this free guide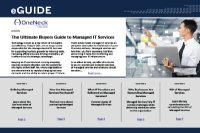 Download Now: Managed IT Services Buyer's Guide
In this 20-page e-book, you'll get your hands on an in-depth overview of managed IT services, and 8 key considerations to help shape your organization's purchasing decisions.
IT includes any use of computers, storage, networking devices and other physical devices, infrastructure and processes to create, process, store, secure and exchange all forms of electronic data. OT, traditionally associated with manufacturing and industrial environments, includes industrial control systems (ICS) such as supervisory control and data acquisition (SCADA).
While IT inherently covers communications as a part of its information scope, OT has not traditionally been networked technology. Many devices for monitoring or adjustment were not computerized and those with compute resources generally used closed, proprietary protocols and programmable logic controllers (PLC) rather than technologies that afford full computer control. The systems involved often relied on air gapping for security.
Increasingly, sensors and connected systems like wireless sensor and actuator networks (WSANs) are being integrated into the management of industrial environments, such as those for water treatment, electric power and factories. The integration of automation, communications and networking in industrial environments is an integral part of the growing Internet of Things (IoT). IT/OT convergence enables more direct control and more complete monitoring, with easier analysis of data from these complex systems from anywhere in the world.
OT's modernization through IT integration brings with it the required consideration of security. Many operational technology systems were never designed for remote accessibility and, as a result, the risks of connectivity were not considered. Such systems may not be regularly updated. The vulnerabilities of OT systems can leave organizations and critical infrastructure at risk of industrial espionage and sabotage.
This was last updated in
March 2016
Continue Reading About IT/OT convergence
Dig Deeper on IT Ops Implications of Continuous Delivery