Definition
DevOps as a Service
DevOps as a Service (DaaS) is a delivery model for a set of tools that facilitates collaboration between an organization's software development team and the operations team. In this delivery model, the DevOps as a Service provider collects the disparate tools that cover various aspects of the overall process and connects these tools to work together as one unit. DevOps as a Service is the opposite of a best of breed toolchain approach, in which the DevOps team uses a disconnected collection of discrete tools.
Content Continues Below

Download this free guide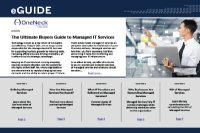 Download Now: Managed IT Services Buyer's Guide
In this 20-page e-book, you'll get your hands on an in-depth overview of managed IT services, and 8 key considerations to help shape your organization's purchasing decisions.
The aim of DevOps as a Service is to ensure that every action carried out in the delivery of software can be tracked, with the DevOps as a Service system helping to ensure that the organization achieves desired outcomes and successfully follows strategies such as continuous delivery (CD) and continuous integration (CI) to deliver business value. DevOps as a Service also provides feedback to the developer group when a problem is identified in the production environment.

The DevOps as a Service approach hides the complexities of data and information flow management up and down the toolchain. The various individuals and teams involved with the DevOps process can use intuitive interfaces to call on the aspects of the tooling they require, without having to understand how the entire toolchain works. For example, using the same DevOps as a Service offering, a developer can call upon source code management (SCM) tools, a tester can check application performance management (APM) tools and the IT operations team can make changes with configuration management tools. This allows the team to monitor and report on activities that occur in the toolchain.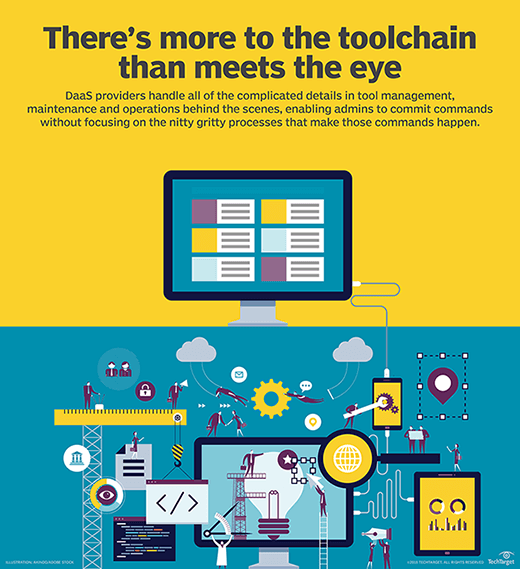 By integrating chosen elements of DevOps tooling into a single overarching system, DevOps as a Service offerings aim to improve collaboration, monitoring, management and reporting. An effective DevOps as a Service strategy will enable the business to adopt a more flexible approach to its markets, bringing forth new products and services as the market changes. DevOps and DevOps as a Service can co-exist with traditional development and deployment processes.
The DevOps as a Service market
DevOps as a Service providers include DevOps tools vendors, systems integrators and even IT teams that curate a toolchain and integrate it in-house. A DevOps as a Service vendor typically offers one of the following:
a complete proprietary stack created, managed and maintained by the provider;
strategies for the user to manage the cultural change involved in blending tasks traditionally performed by siloed software application development and systems operations teams;
a more open stack wherein the vendor creates a proprietary interoperability system, allowing for some hosted open source components;
or an orchestration layer that uses open application programming interfaces to integrate with existing tools.
This was last updated in
March 2017
Continue Reading About DevOps as a Service
Dig Deeper on DevOps and IT Certifications and Training